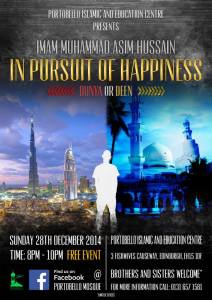 In Pursuit of Happiness (Dunya or Deen): Imam Muhammad Asim Hussain. A seminar about changes, and restoring a sense of direction, purpose and control in life. 8-10pm, Portobello Islamic and Education Centre, 3 Fishwives Causeway, Portobello. Free.
National Museum of Scotland Christmas Art Competition: be inspired by the objects in the museum and get drawing! A popular annual event for all ages and abilities – basic materials and lots of encouragement provided! 10.30am-4.30pm (drop-in), National Museum of Scotland, Chambers Street. Also at same times on Monday 29th and Tuesday 30th December 2014.
Filmhouse Junior: Frozen (PG). Special singalong screenings of this magical film. 10.45am and 11am, Filmhouse, Lothian Road. £3.50 per person, big or small; book online or call the box office on 0131 228 2688. (The film will also be screened in the afternoon 28 December 2014 to 4th January 2015 – normal ticket prices will apply to these screenings).
Festival of Sacred Music: Service of Nine Lessons and Carols. 10.45am, Mayfield Salisbury Parish Church, 1a Mayfield Road.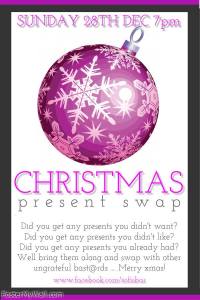 Sofi's Christmas Present Swap: if you received presents you didn't need/like or already have, bring them along to Sofi's and swap with other ungrateful people! Arrive with one present, leave with another one – what could be simpler? (There will be rules…)  Sofi's Awards 2014 will also be announced tonight, and there will be nibbles and bubbly. Arrive on time to get registered! 7pm, Sofi's Bar, 65 Henderson Street.
St C's @ SIX: carol singing and a simple meal in the spirit of AGAPE. All welcome. 6pm, St Columba's-by-the-Castle, 14 Johnston Terrace.