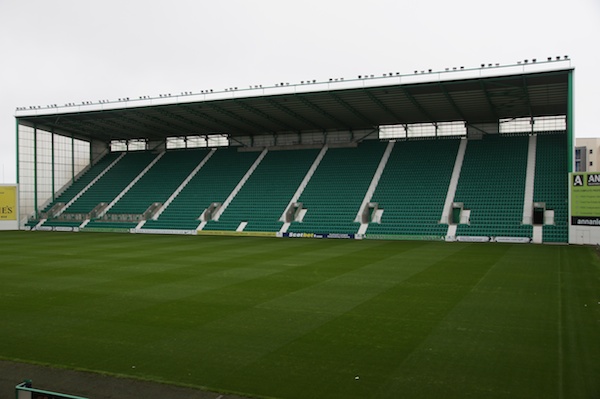 An estimated 2000 fans gathered at Easter Road yesterday to demand the removal of chairman Rod Petrie from the board.
Petrie is under pressure following Hibs' relegation to the Scottish Championship and although new Chief Executive Leeann Dempster insists that she will have autonomy over the way that the club is run, disgruntled fans believe that Petrie will interfere.
As the supporters made their feelings clear, Dempster met with representatives from a number of fans' groups such as Working Together, the Hibernian Historical Trust, the Hibernians and the Erin Trust to discuss her vision for the future.
Ex-Hibs' star Paul Kane is leading the "Petrie Out" campaign and he was joined at the rally in the car par outside the West Stand by legend Pat Stanton along with former players Gordon Rae and Michael Weir.
Kane said: "We asked the question of the supporters would they like us to get in dialogue with the club to see what they would like to with this kind of support.
"We're going to ask the club that. We'll probably ask the majority shareholder, Tom Farmer, what he would like to do with the support we got. We have to wait for the answers to tell the supporters what's going to happen."
Afterwards Dempster told BBC Scotland: "People are very upset at the moment.
"When they get a chance to vent that anger and get in front of somebody at the club then you tend to get on the end of that and I'm happy to do that."
"I can't change the past but I can try to influence the future as much as possible and that's entirely what I intend to try to do.
"Rod's essentially passed on all his executive responsibility to me so I'll run Hibernian in much the same way that I did at Motherwell with all the full autonomy and the support of the board to make major decisions and be involved, absolutely, at the coal face of the decisions of this football club.
"With no disrespect to other clubs that are in the Championship, it's not a place where Hibernian want to be. We have the infrastructure of a Premiership club and the aspirations of a Premiership club so we just need to get on with it and try to make that happen."
A decision over manager Terry Butcher's future is expected to be made next week following discussions with Dempster.