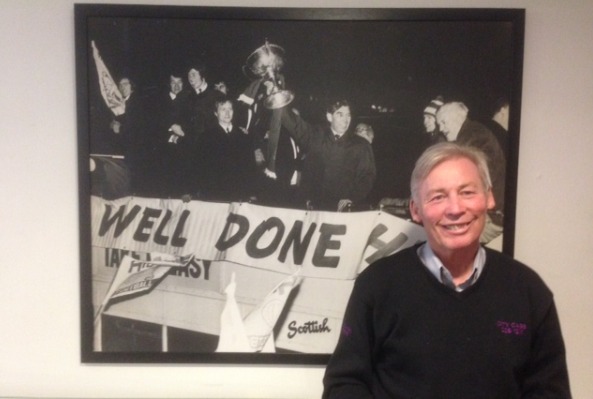 Herriot, Brownlie, Schaedler, Stanton, Black, Blackley, Edwards, O'Rourke, Gordon, Cropley, Duncan. The names slip off the tongue as effortlessly today as they did forty plus years ago when they were thrilling football fans throughout the country and beyond whilst producing 'The best brand of football the world's ever seen.'
Seven of the team were internationalists, at a time when a Scotland cap was much harder to come by than today, and the reason that the other four were not had more to do with the fact that Scotland managers seldom ventured east of Harthill, than any lack of ability.
Managed by Eddie Turnbull, the team contained a mixture of experienced pros and youngsters, including a left sided midfielder whose skills and attitude soon caught the attention of scouts from south of the border.
Anyone privileged enough to have seen Alex Cropley break through from the reserves knew immediately that Hibs had found another special talent but the more pessimistic realised that his time at Easter Road would be limited, and that he would join the long list of talented Hibs' players such as Colin Stein, Peter Marinello and Peter Cormack who would ply their trade elsewhere.
Slight of build, with distinctive long blond hair, Alex had the ability to kill a ball instantly and send a defence splitting pass to a colleague in one movement. He always seemed to be able to find space and appeared to know instinctively the best ball to give, and when no pass was on, he could take defenders on and fire in powerful shots from outside the box.
If that wasn't enough however, Alex had the heart of a lion and never shirked a 50-50 challenge, invariably emerging with the ball against opponents twice his size. No wonder the Hibs fans adored him.
Pat Stanton always insisted that Alex was his favourite player in that team, and selected him for his 'dream team' in his recent book, ahead of players of the quality of Bobby Johnstone, Peter Cormack, Russell Latapy and John Collins. Describing Alex, he said: "He was magnificent to watch on full flight. When Alex got a head of steam up, he was a great sight. He would run at defences with his long hair flowing and he was virtually impossible to stop. Defenders must have been terrified as he burst into their space. He always reminded me of a fox going into a chicken run. The defenders he faced would have known how the chickens felt."
Bob Shankly gave Alex his debut just after his 18th birthday, but it was under the tutelage of Eddie Turnbull that he produced his top form.
Unfortunately his career was held back following a broken ankle suffered in a challenge by Falkirk's Alex Ferguson at Brockville, an incident which according to reports resulted in Eddie Turnbull refusing to speak to Ferguson again.
The injury meant that Alex missed the 1972 Scottish Cup final defeat to Jock Stein's Celtic, but he was in the team that gained revenge a few months later, winning the Drybrough Cup 5-3 then the League Cup 2-1 and the Drybrough Cup again 1-0, all against Celtic and all at Hampden within the space of a year.
During that year, Hibs also hammered Sporting Lisbon 6-1 at Easter Road and beat city rivals Hearts 7-0 at Tynecastle. Unfortunately, a few days after that historic game, John Brownlie suffered a broken leg and the legendry Tornadoes never appeared on the same pitch again.
In all, that team only played 22 games together, winning an incredible 19 and losing only two, one of which was the first leg against Sporting Lisbon.
Alex now drives a taxi in the capital, and kindly took time out from his busy schedule to speak to the Edinburgh Reporter about his career north and south of the border.
He said: "Looking back it was a privilege and a pleasure to play for Hibs. To wear that famous green shirt was absolutely magical and was a wonderful experience.
"I was part time when Bob Shankly was here, training on Tuesday and Thursday nights and played twice under him before his replacement Willie MacFarlane signed me full-time on a 3 year contract.
"Before Eddie Turnbull arrived we had a good reserve side and I was in and out of the first team but when he took over he transformed everyone. We were wonderful, we thought about the game a lot more, talked about the game a lot more and in my opinion it was all down to him. He transformed Hibs into a different level.
"He made me a player and the natural ability I had came out when he came to the club and I think you could say that with a lot of the players.
"In some games it was quite easy, and I'm not trying to be blasé about it, we were such a good side. The team was full of characters and great lads and we got on well with each other and when the big ones came up, although we sometimes got beat by the Celtic we were ready for them, we were that well trained and managed by Eddie Turnbull. It didn't faze us; we weren't scared of anyone we were that well drilled.
"The seven nil gave was unbelievable. I've not seen it for ages but when I do watch it, it brings it back how disciplined and drilled we were and although Hearts could have had two goals, we could have scored ten in the first half. Turnbull did warn us at half time, saying that you are a good side go and prove that you can do it again because that's what good sides do, but unfortunately we couldn't manage it.  Seven was nice but ten would have been better, but in saying that, Hearts were a good side too and to beat them seven nothing was an achievement.
"Most of the team were internationals and two or three of the team would probably have got into a British eleven and our captain Pat Stanton would probably have been the mainstay on that team because he was that good and people tend to forget that."
In 1971, Alex created history along with Arsenal goalkeeper Bob Wilson by becoming the first players to represent Scotland having been born elsewhere, yet he modestly suggests that his inclusion was more to do with boosting the crowd than his form at the time. Unfortunately, he would only play twice for Scotland due mainly to injuries against Portugal and Belgium as well as being an unused substitute against West Germany.
He continued: "I just feel than one cap was enough. One was as good as a hundred. I played for my country and wore the dark blue strip. I remember one night sitting in the dressing room after training when Bob Shankly said that he had put me forward for the Scotland Under 17s but then they had found out I was English and couldn't play. I am English as I was born in Aldershot, and that was it at the time, end of story until two or three years later when the rules changed and I could play for Scotland then lo and behold I got a cap. I was playing quite well at the time as were the rest of the team, but I thought that it was a bit of a con by Tommy Docherty because he wanted the seats filled at Hampden and we were bottom of out section by a long distance and he wanted a good crowd so he brought on me and Bob Wilson, but I thought it was a gimmick to be fair.
"Thank goodness that he did because I did well enough to get my second cap against Belgium at Pittodrie. Kenny Dalglish came on for me and that was his first Scotland cap but to be honest he should have been capped a couple of years before that he was such a good player."
Forty years ago last week, Hibs lost on penalties to Leeds United after two 0-0 draws in the UEFA Cup, despite outplaying Don Revie's team, who many considered to be one of the best club sides in Europe, in both legs. Alex recalls these games clearly as well as many others in the famous green and white jersey.
"Leeds were a good side but we more than showed how good Scottish football was especially at Elland Road. It was a lovely pitch and we played really well and had the English press drooling about how good we were. Then we came up here and they just shut up shop and Billy Bremner had a great game and it's a shame but we eventually went out to a very good side albeit on penalties.
"There were so many great games; it's difficult to choose my favourite. The Hajduk Split game was good particularly as they turned out to be a really good team. Then there was Sporting Lisbon whom we beat 6-1 and the League Cup Final as we never gave Celtic a kick of the ball that day. The Hearts game at Easter Road when I scored two goals. It was great to get back into the dressing room after these games and the gaffer would give you a slap on the back and say well done. That's all we wanted. It meant everything to me."
In November 1974, a few weeks after Alex had scored against Juventus, Arsenal bid £150,000, a huge amount in those days, for his services and Alex headed to Highbury to the dismay of the Hibs' fans. His replacement Ally McLeod turned out to be a very good player, but the difference was that Alex Cropley was a great player. The fee can be brought into perspective by the fact that a couple of years before Arsenal had broken the UK transfer record to buy England World Cup winner Alan Ball who was in his prime for £220,000.
Unfortunately more injuries hampered his career in front of the North Bank and he moved to Aston Villa where he helped them win the League Cup and became a fans' favourite with the Holte End who had their own special song about him, "Five Foot Eight, Not Much Weight, Alex Cropley's F***ing Great." That Villa team which included fellow Scot Andy Gray are fondly remembered today, and a famous 5-1 victory over all conquering Liverpool is considered by many to be their finest ever performance.
Yet again however, Alex suffered a serious injury, this time in a derby against West Bromwich Albion at the age of 26 and although he returned to play again at the highest level, he never reached the same heights. A loan spell with Newcastle then a move to Toronto Blizzard and a brief spell with Portsmouth saw his career peter out, but he is still revered at Easter Road, Highbury and Villa Park.
Nowadays the gulf in standard between the top English and the Scottish teams is vast, but in the early seventies this was not the case, and not only did Alex join an inferior team after leaving Hibs, he never again found the level of coaching that he had become used to at Easter Road.
"Without a doubt Hibs were a better team than Arsenal who had won the double a couple of years earlier, but they were not in the same class as that Hibs team.
"Bertie Mee was a physio turned manager and he was a real gentleman, a really nice man but he always had a coach to go with him. He kept well away from tactics and left that to Bobby Campbell and Dave Sexton. Ron Saunders at Aston Villa couldn't shine a light on Turnbull. When I went to Villa, the players decided how we played and the manager didn't have much to do with us. His team talks were poor, and I always used to look back at Turnbull who was different class compared to the managers I had in England."
Alex' amazing career is covered in his authorised biography 'Crops' by Hibs' Historian Tom Wright which is available from all good book stores from Thursday.