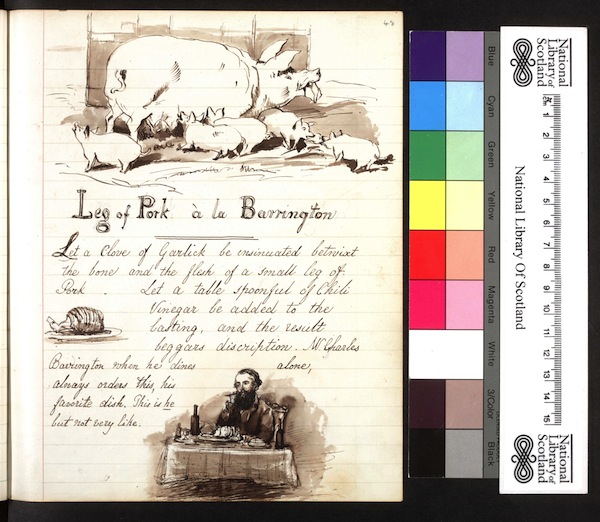 One of Britain's celebrated chefs has turned to the National Library of Scotland (NLS) for inspiration for his new restaurant venture.
This weekend Tom Kitchin has opened a gastropub — The Scran and Scallie — in Edinburgh's Stockbridge area. The walls of the pub will be adorned with copies of original recipes from the Victorian era, sourced by Tom at NLS.
They were collected in the mid-19th century by Katherine Jane Ellice, wife of Edward Ellice of Invergarry, a wealthy businessman and politician. The recipes include fish balls, chicken jelly, leg of pork a la Barrington and more familiar items such as kedgeree and toasted cheese.
The Ellices lavishly entertained a steady stream of visitors at Glenquoich, their shooting lodge in the Highlands from the 1840s to 1860s. Some of the recipes in this book came from their guests.
The recipes are illustrated with humorous sketches and add to the Scottish character of the new venture. It will feature traditional Scottish dishes — or scran — with a modern twist.
Tom Kitchin recently gave a talk at NLS where he told of the things that have inspired him throughout his career.
Olive Geddes, manuscripts curator at NLS, said: -'We have been delighted to work with Tom to source original material for his new restaurant. The recipes represent a step back in time and help to show how the wealthy entertained in the mid 19th century.'