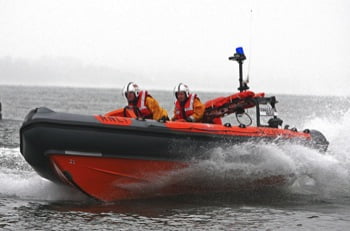 At 1:00pm today the RNLI Queensferry Lifeboat was called out to assist people in the water struggling to get ashore from Cramond Island.
On reaching the scene they found six people up to their chests in water in the fast incoming tide, attempting to reach the shore. Three people, two adults and a child with a slight injury had made it back to Cramond. The RNLI Queensferry Lifeboat crew picked up the six people in the water and found another six people stranded on the Island.
The six children and six adults including a family from Hungary were taken aboard the Lifeboat and landed safely at Cramond. An ambulance was in attendance to treat the injured child, and one woman with a suspected sprained ankle. The Cramond Bistro opened its doors to assist the adults and children rescued from the freezing waters of the Forth.
The advice given to anyone is check the tide tables before setting off and if trapped by the fast incoming tide, stay on the Island and call for assistance as it is extremely dangerous to attempt to wade ashore as the water rises very quickly.