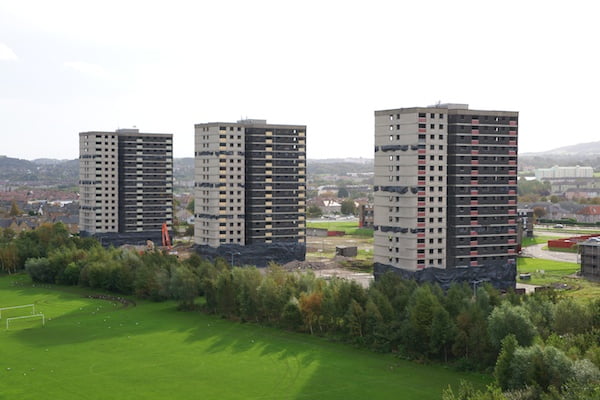 The Reporter was in Sighthill yesterday to witness the end of an era. The three tower blocks there were being demolished, and were brought down very neatly just after 11 o'clock. We have video of the event and a selection of photographs in our report.  It was all over in a matter of seconds, so we all had to be on our toes so that we did not miss it!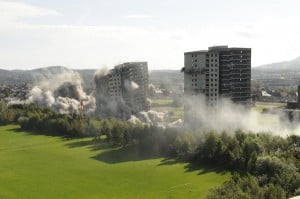 Another photographer who was there has been good enough to send us one of his shots showing the buildings just at the point of falling. This photograph is from William Skelton who is a photojournalism student at Stevenson College. The photograph is taken from the roof of the college.
The Scottish Low Carbon Investment Conference is being held in Edinburgh this week. There are some notable speakers including former US vice-president, Al Gore, Sir Ian Wood Chairman of the Wood Group plc, Ian Marchant chairman of Scottish & Southern Energy and Lady Susan Rice Managing Director of Lloyds Banking Group. The Scotsman reports that there is a 'compelling case' for the Green Investment Bank to be sited in Edinburgh.
On Thursday 29 September we are hosting a liveblog with Ian Murray MP for Edinburgh South from 5.30p.m.  Only A week or so ago Ian was asking questions in Westminster about the future of banking jobs in Edinburgh. Send us your questions for him now, and mark the date in your diary to "tune in" to The Edinburgh Reporter Liveblog page which will 'go live' on Thursday afternoon.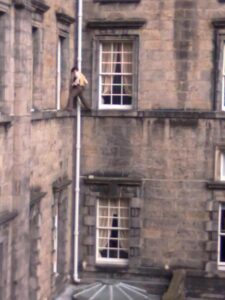 There has been a lot to see in Edinburgh over recent days, particularly on Friday if you were in the vicinity of the City Chambers which was turned into the Imperial Hotel for the purposes of filming Cloud Atlas, a movie which stars Tom Hanks and Halle Berry. Councillor Paul Edie has been kind enough to share his photos with us (taken with his new mobile phone) which show a stunt man climbing around on the outside of the building.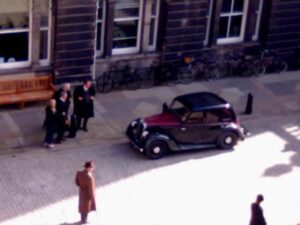 The other shows some of the old cars being used to recreate the 1930s in the City Chambers courtyard. This is not the first time that Mr Hanks has used Edinburgh for his movies
The Sighthill, Broomhouse & Parkhead Community Council meet tomorrow night at Murrayburn Primary School at 6.45p.m. Details of some other meetings taking place tonight can be found here.
Here is the agenda:-
Agenda 11 September