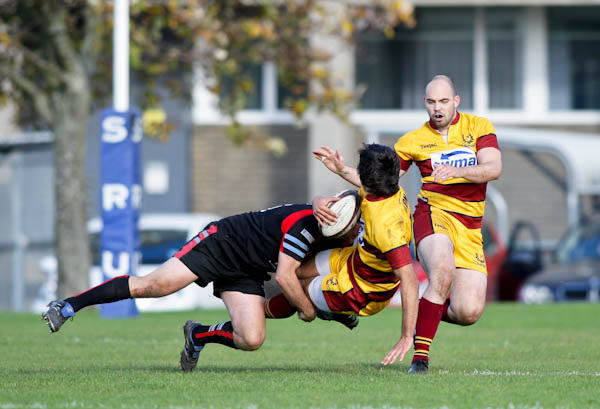 The Cougars were involved in their fifth 40+ points match of the season, when Aberdeenshire side, Ellon made the long trip down to Barnton at the weekend.
The away side started brightly and had RHC on the back foot for a while, coming away with two penalty scores to two misses in the first 15 minutes of the match. RHC then took on the roll of attackers for a period and nearly put No. 11, Morrison, over for a try around the 30 minute mark.
A bit of retained ball and subsequent pressure from Ellon had No. 14 Yuill, scoring the first try of the match a few minutes before half time. With No. 10 Ryan slotting home the conversion, Ellon went 13-0 ahead.
The home side took the initiative at this point and some sustained passing and running play took RHC well up the field, into the visitors 22. RHC No. 6, Barnett then forced his way over Ellon's try line for RHC's opener and, with No. 12 Morrison converting, the half time score was 13-7 to Ellon.
Not long after the turn round a superb piece of passing and wide running, with the ball moving from one wing to the other, ended with Ellon scoring their second try through full-back Brumwell to stretch their lead to 18 points to 7. A few minutes after the Ellon try, the Cougars were in the Ellon 22, where Morrison took the opportunity for a drop-kick at goal. Five minutes later some more good, running play from RHC lead to their second try, this time from No.11 Morrison. With No.12 Morrison converting, the score now stood at 18-17 to Ellon. A short exchange of attacks ended at the visitors end, with another penalty award to RHC.  Kicker Morrison (No.12) set himself up for the place kick, to see the ball falling off the kicking tee. Getting a hurry-up from the referee, a bit of quick thinking had him drop-kick the ball over to bring the score to 20-18 to the Cougars
RHC seemed to take control of the match at this point and the next 10 minutes or so saw them stretch away to a 30-18 lead through a try from 13, Heslop and another conversion and penalty from Morrison. The final 5 minutes of the match, however, had RHC nerves on edge as first No.6, Slaven and then Brumwell scoring tries for the visitors, and taking them to within two points of the hosts. Neither were converted, and a last minute penalty from that man Morrison, took the final tally to 33 points to 28, to give RHC the win and the four league points.
This was a highly entertaining match which either side could have won, but RHC's comeback in the second half probably just shaded it for them. The big boys up at Murrayfield should take note.
Report and Photo – John Preece
Web – http://www.photoboxgallery.com/jlp-photography