Anyone thinking of walking to Cramond Island is warned to be extra careful this weekend
The RNLI have advised that you should be aware of the high spring tides which may cut off your path on the tidal causeway.
Spring tides happen every lunar month throughout the year without regard to the season. During this time the earth, sun and moon are lined up in a row which results in a higher swell.  This makes the high tides higher and the low tides lower than other days throughout the month.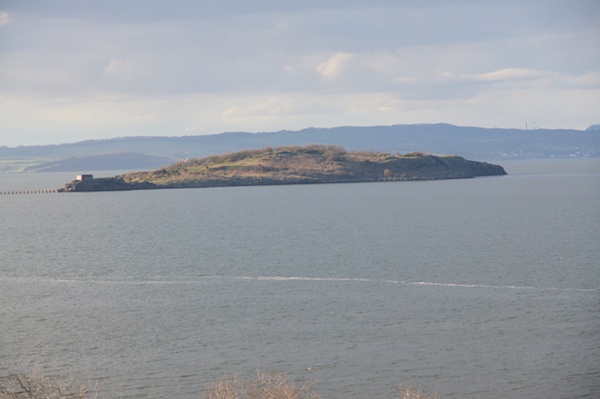 The next high spring tides will start on Friday and continue throughout the weekend. This means the danger of being cut off by the fast-rising tide while walking to or from Cramond Island is higher than usual.
Current Scottish Government guidance allows for exercise which starts and finishes at the same place, providing you remain within your local authority area. This means that people living near to Cramond may decide to choose this option for essential exercise, but the RNLI are urging those people to consider the unusually large tides expected this weekend.
The island is popular with walkers who take the opportunity to venture across at low water. When the tide rises, under-prepared walkers can find themselves stranded. Over the last two months, the volunteer crew at Queensferry RNLI have been called to evacuate a total of nine people and two dogs who found themselves cut off by the tide.
To avoid this happening over the weekend, the lifesaving charity is asking walkers to check the tide times before crossing.
Michael Avril, RNLI Regional Water Safety Lead for Scotland said: 'Our volunteers remain on call, ready to respond, but the need for our help can be avoided if walkers plan ahead by checking the tide times before setting off. Spring tides will make the high tides higher and they will also come in quicker. The danger in this is that people can get cut off quicker without even realising until it's too late.'
The RNLI reminds us that the coast is a dangerous and unpredictable place and Michael urges those who intend to walk this weekend to act before you go to get the necessary help to you if needed.
He said: 'Accidents happen, and it is important that you are able to call for help if you need it. If you find yourself or spot others in trouble, call 999 and ask for the coastguard straight away. Stay calm and don't try and wade through the water as this could be dangerous.'
For more information of how to stay safe at the coast, please visit the RNLI website: www.rnli.org.uk