This week there's still a couple of weeks of school left before children get a welcome break over the summer. The Edinburgh Festival of Cycling is underway and we are already looking forward to the Edinburgh International Film Festival which begins with films showing at Lauriston Castle on 15 June and a special pre-showing of Toy Story 4 on 16 June.
On Tuesday morning 11 June look out for the Edinburgh Taxi Drivers' Outing. It is the 73rd outing organised and funded by taxi drivers in the city. It gives young people with special needs, life-limiting conditions or terminal illness a day out with a lot of fun involved.
The outing begins in the car park behind the zoo and proceeds along through Haymarket up The Mound to the High Street and then down Abbeyhill, London Road and passes through Portobello, Joppa and Musselburgh (stopping for an ice cream at Luca's of course!) and arriving at Archerfield Walled Garden about 1.00pm. If you miss the spectacle in the morning with all the loaded water pistols then you have another opportunity at the end of the day when they come back around 5.00pm.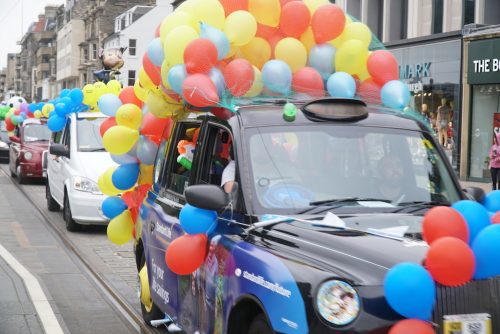 ArtWalk Porty are running an Art Hunt in Rosefield Park on Saturday 15 June 2019, 2.00-4.00pm. Come along and find the stories hidden in the park about Porty's old shops to win some prizes. Polaroid-style selfies, goodie bags, badges and more. A fun child-friendly day out!
SPOKES Bike Breakfast 2019 will be held on Tuesday morning 11 June in the quadrangle at the City Chambers. You are invited to arrive on a bike, enjoy a breakfast roll and listen to some pro-cycling speeches. It begins at 7.45am and is a free event. You can get your bike checked and security marked by Edinburgh Police. This is part of the Edinburgh Festival of Cycling 2019.
Leith Festival has a host of events taking place all week. '4 Doors down' is a new public art initiative in the old town of Leith.
Four humble doors in Maritime Lane and Maritime Street will showcase how new street art on these unloved and unused doorways can entertain, inspire and brighten a small corner of Leith for those who live and work there as well as visitors during June 2019 and beyond.
Under the guidance of the Leith Festival and Leith Late experienced talented street artists will be given the opportunity to create urban artworks for the Leith Festival. During the Festival feedback on this project from residents, businesses and tourists will be taken.
From Friday 14 June 2019 you can see the royal wedding outfits worn by TRH The Duke and Duchess of Sussex when they got married at Windsor last year. The highlights include the Duchess's dress created by Clare Waight Keller who is Artistic Director at the historic French fashion house Givenchy. It will be displayed with the five metre long veil and diamond and platinum bandeau tiara made in 1932 for Queen Mary and which Her Majesty the Queen loaned to the Duchess.