Take a story about a troubled family – depressed and rejected son,  rebellious daughter,  aggressive father and  alcoholic mother – and wrap it around with a mystic, Arabian Nights-style narrative, throw in a pinch of spice in the form of a reminiscence of The Prince and the Pauper by Mark Twain and the result is The Storyteller.
The protagonist is thirteen-year-old Jamie, heading off with his family on their usual summer holiday from their mundane life in Manchester to a campsite in Scotland.
But when his sister, who is perhaps the only family member to whom he feels close, makes a shocking revelation, Jamie flees the campsite and comes across a beautiful, traditional gypsy caravan. The owner, Moses, reveals that he is blessed with the Romany tradition of storytelling, offers to tell one to Jamie, and this is where the fable starts.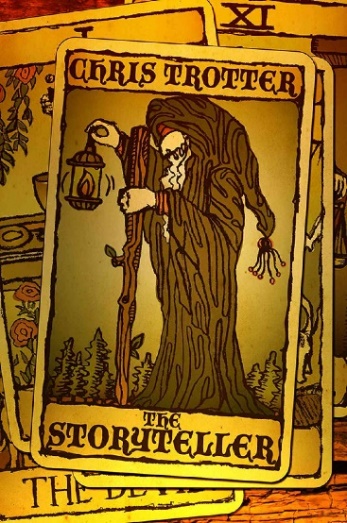 The story that Moses relates then takes up the greater part of the book, and, actually, could almost be read as a stand-alone story in its own right. It is a tale of love and treachery, whilst at the same time, can be seen as a an allegory for Jamie's relationships with his own family members. 
When the story concludes, Jamie has to confront his own feelings, which are thrown into sharp relief by a near-fatality in his family: but the final chapters neatly wrap up a reconciliation and realisation that perhaps we do have the ability sometimes to control our own destinies. A moral tale for modern times.
Chris Trotter was born in 1981 and was brought up in Edinburgh, where he now works as a tour guide. He studied acting and tourism and is a keen photographer. Writing has been a hobby of his since he was a child, and The Storyteller is his first published book.

The Storyteller, is published by Austin Macauley, will be available to purchase from Amazon and all good booksellers. For more information, please visit www.austinmacauley.com/book/storyteller     
The Storyteller – Chris Trotter
Paperback- ISBN 9781786125781 RRP £7.99