Three Hibs' players have been included in the 'Socceroos' squad for the games against South Korea and Lebanon later this month.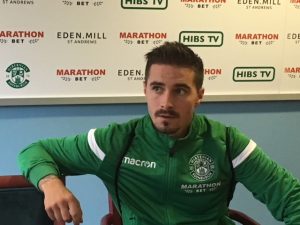 Jamie MacLaren, (pictured), Mark Milligan and Martin Boyle will all travel to the fixtures.
Australia's manager Graham Arnold has singled out MacLaren in particular as being a player he is keen to see in action following his return from injury.
"Jamie was in the World Cup squad and Jamie had fantastic years or seasons at Brisbane but also he's back now from injury at Hibs," Arnold said.
"I know Neil Lennon holds him in high regard and I look forward to working with Jamie. Again I haven't seen him really ina game situation that I've worked closely with him.
"I know what his qualities are, his qualities are scoring goals and I expect that to happen.
Meanwhile Boyle recently had his Australian passport approved, paving the way for his Socceroos debut.
"I've watched him at Hibs when I was over there — he's an exciting player,"
"He's a player that is great in 1v1 action, you can give him the ball and leave him free and he will always have the positive attitude to try and go past players and he scores goals.
"So he's got a lot of speed and he gives us a great addition in the front half of the field that we've been looking for."