Fancy taking a Taxi to the Future? Well the service started today and picked up its first passengers. The taxis ride is free but there is a twist – you will take a trip to the future.
It is here for a week only so hurry up to book your place on the tour.
This is the next phase in the Edinburgh 2050 campaign to shape the city vision about life in the capital in 32 years' time.
Passengers will follow an interactive map on a tablet in the back of the cab during their journey. There are alternative location markers pinned to the map to give you an idea of what certain places in Edinburgh might look like then. For expample there could be pedestrianisation of Princes Street and 3D printed homes.
You can watch a video of Eunice Olumide OBE, supermodel and activist, on her taxi ride below. She wants Edinburgh to be the centre for sustainability – and here she explains how the taxi works :
2050 Edinburgh City Vision – Taxi to the Future with Eunice Olumide from Wire on Vimeo.
And Arthur Mckinlay and Bella Kent both aged six went for a spin in the taxi – watch their capers here and hear about the possibility of robot teachers and flying houses :
2050 Edinburgh City Vision – Taxi to the Future with 6 Year Olds from Wire on Vimeo.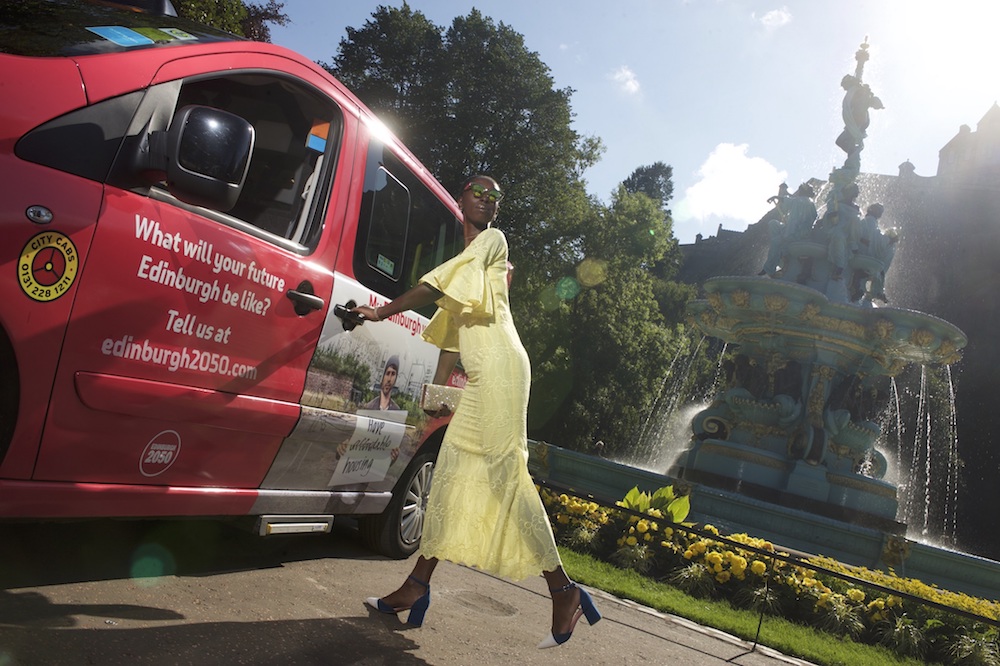 John Donnelly, Chief Executive, Marketing Edinburgh, said: "The Taxi to the Future is a really fun way to get involved with the 2050 Edinburgh City Vision Campaign. Our cab ride with a twist will allow passengers to see what Edinburgh could look like in the future, and provide an opportunity to influence the reality. I'd encourage as many citizens as possible to book, buckle-up and enjoy a trip to the future over the next 7 days."
Theo Priestley, Futurist consulting on the 2050 Edinburgh campaign said: "Projecting what the city I was born and raised in will be like in the year 2050 has been a hugely exciting task. Edinburgh is already making significant strides in innovation and sustainability, and I hope in 32 years' time, at least some of my predictions have became a reality. I'd encourage as many residents as possible to take a trip in the 'taxi to the future' to see what is potentially in store in the next three decades!"
The 'Taxi to the Future' is ready to ride from today (Monday) to Sunday 16th for anyone with an EH postcode and will operate from 12pm – 6pm daily. All passengers, regardless of start and end point will see a minimum of 2 future locations via the map – which may mean taking a slightly longer route than normal. The cab can be booked through Marketing Edinburgh's @Edinburgh Twitter account and @ThisIsEdinburgh Instagram account.
On Twitter, keen passengers need only follow @edinburgh and tweet their pick-up location, preferred pick up time and drop-off destination using #Edinburgh2050. Instagram users who'd like to take a trip in the taxi need only follow the @ThisIsEdinburgh account and respond to the daily 'stories' with their pick-up time, location and drop-off destination. Passengers lucky enough to secure a trip to the future will be notified via direct message.
Marketing Edinburgh are delivering the 2050 Edinburgh City Vision campaign offering everyone the chance to have their say on how Edinburgh shapes up and contributing to the blueprint for the future.