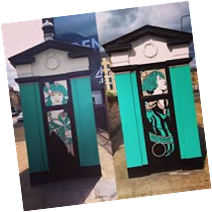 In September at Leith Walk Police Box there are even more pop ups for you to enjoy.
Each Saturday at 10.30am Edinburgh Tool Library are at the police box when you can join up or borrow tools.
September 15,16,22 and 23 – Take one action film festival – changing the world through film.
Saturday 29 September  (last Saturday of the month) 2 – 5 Invisible Edinburgh Street Barber, QMU podiatry services, Socks for the Streets.  Services for people experiencing homelessness.
September 30 September – Doors Open Day – they throw their door open….
One of 85 police boxes, the Leith Walk Police box was designed by City Architect, Ebenezer Macrae. Originally at the junction of Leith Walk and Albert Street in 1933, it was used by City of Edinburgh Police with the Leith Burgh Force. In 1979, the box was moved by Lothian and Borders Police.
This is an opportunity to see inside a police box and to meet a retired police officer who can tell you about life as a bobby working out of the police boxes. Leith walk police box is now a pop up venue used as temporary spaces for different purposes including art, entrepreneurship, charity and campaigning. The outside has been turned into a public art gallery but the inside remains exactly as it was.
Booking essential via www.leithwalkpolicebox.com
Art outside the box project  –  They are busy working with Edinburgh Tool Library this month to create a new public art space on the outside walls of Leith walk police box.
There will be a changing gallery of works from ETL, Leith Academy, Stafford St centre.  They are also going to hold an open competition for people in Leith to create one of the works.
This project is supported by ETL, Firstport, Leith Chooses 2018 and Thornbridge Timber