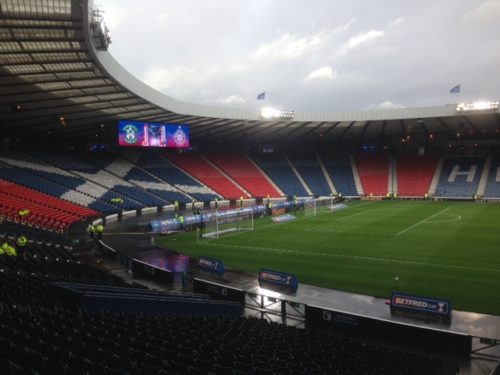 The hunt for the next intake of the Scottish FA's Youth Ambassadors of Change has been officially launched today at Hampden Park.
Supported by UEFA's Football Social Responsibility Hat Trick programme, the programme will see 20 of Scotland's most passionate young football supporters given the chance to be the voice of young people on the shape of the game in Scotland and inspire those involved in the sport across the country.
Those selected will form the Scottish FA's Youth Congress, which will meet six times during the two-year term of office. Ambassadors will also have the chance to pitch and present certain projects to their colleagues, with a view to making a tangible difference within Scottish football.
Prospective candidates will be able to apply for a position across one of six areas; women's and girls' football, Scottish FA regions, project ambassadors, football operations, refereeing and diversity and inclusion.
Current Scottish FA Refereeing Youth Ambassador Vikki Allan encouraged any young person with a passion for football to apply.
"This programme is a no brainer to apply for. The skills I have gained and opportunities have been immense, and this programme has opened doors for me that I never dreamed I could be a part of" she said.
"The opportunities are incredible and what we have achieved as a team – and what you can achieve – can only benefit Scottish Football."
Joshua Barrie, a current Youth Ambassador for Performance Schools, agrees.
"There aren't many programmes, in my opinion, aimed at young people that are run more for the benefit of the participant rather than the organisation" said Barrie.
"Of course the programme is a great thing for the Scottish FA, but it takes effort and funding. It's being done because the Scottish FA want young people to have an increased input on the direction of the game in Scotland. It's a programme which if you make the most of, will benefit you hugely."
Interested parties can apply via the SFA website. Applications close on 8th October.