Two new paintings by Sir Henry Raeburn (1756-1823) have been donated to the National Galleries of Scotland using the Acceptance in Lieu scheme where artworks can be donated to satisfy a tax liability.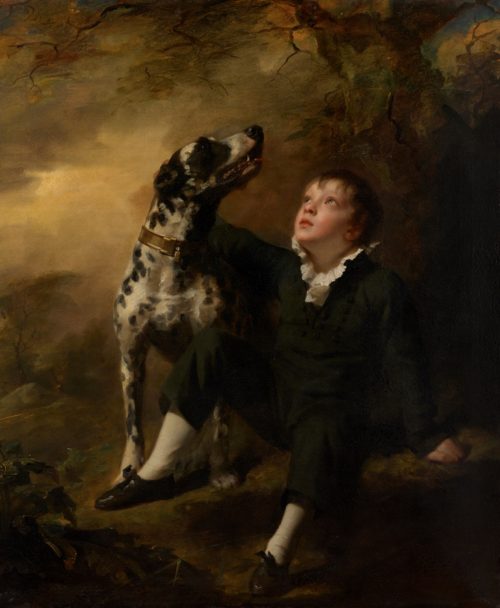 The inheritance tax liability in this case was £631,600 and the two paintings are now transferred into public ownership. This scheme allows works of art or other heritage objects to be retained for the nation rather than sold on the open market.
The works feature the two eldest sons of Sir William Forbes, 7th Baronet of Pitsligo, Aberdeenshire who commissioned Raeburn to paint his sons when they were both around seven years old. Sir William was an important art collector and wealthy banker.
Not only children are included in the paintings; they each include a dog, presumably a family pet. There is a Bernese Mountain Dog in one and a Dalmatian Pointer Cross in the other. At present they are in the Scottish National Gallery in room 13 which is on the right as you enter past the shop.
The acute observation of the relationships between the boys and their dogs makes these works differ from the conventional portraits that Raeburn more usually produced, giving them much of the appeal of 'genre' paintings that show scenes from everyday life.
As such, they have an exceptional status within the artist's output and, indeed, in British portraiture of the period. The National Galleries of Scotland holds a fine survey of Raeburn's work, although only one other example of his child portraiture, a later painting of about 1822.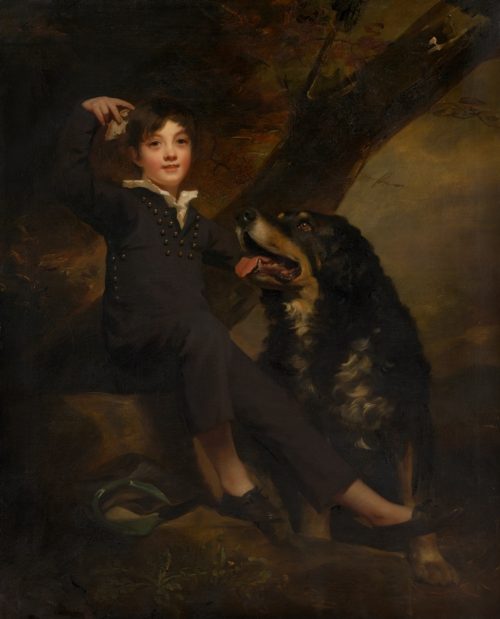 Christopher Baker, Director of the Scottish National Portrait Gallery, said: "Raeburn's work has enormous appeal through its technical sophistication and the empathy with which he portrayed his subjects. Both these achievements are brilliantly distilled in these delightful portraits. We are very grateful indeed to the Acceptance in Lieu (AIL) scheme for making the transfer of the paintings to the nation possible. It seems especially appropriate to celebrate this, in view of the age of Raeburn's subjects, during Scotland's Year of Young People."
Edward Harley, Chairman of the Acceptance in Lieu panel, commented further:"These portraits were amongst the finest of the artist's paintings still left in private hands. The allocation of the works to the Scottish National Gallery highlights the importance of the Acceptance in Lieu Scheme in bringing exceptional works of art into public ownership."
Clarissa Vallat, Sotheby's Tax & Heritage Department, said: "We're delighted to have played a part in negotiating the placement of these wonderful paintings with the Scottish National Gallery, by an artist so beloved by the Scottish nation."
Raeburn is of course well-known for his painting of The Skating Minister which the widow of the Spanish architect, Enric Miralles, once cited as the inspiration for the window design at Holyrood.