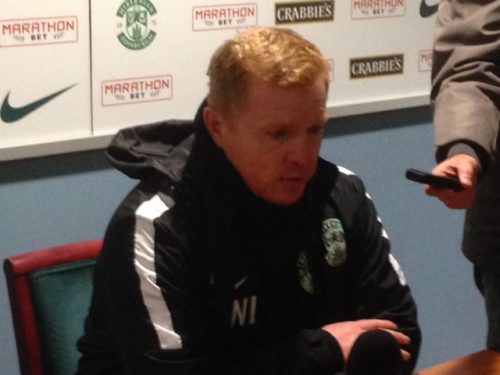 Neil Lennon shocked Hibs' fans last night after revealing that he will reconsider his own position at the club.
Defeat in the Edinburgh derby means that Hibs will almost certainly finish in fourth position and whilst most would have accepted that at the start of the season, Lennon insists that is 'unacceptable' for him.
Unless Motherwell beat Celtic in the Scottish Cup final, Hibs will qualify for Europe but fans will have to wait and see whether the Northern Irishman is at the helm next season.
Speaking to BBC Scotland after last night's 2-1 defeat to Hearts, an emotional Lennon said: "We look like we are going to finish fourth, which is unacceptable for me. I will reconsider my position now in the summer
"I've got things to think about myself, my own personal aims and ambitions. But I can't watch that in a derby. It's not good enough.
"We have a board meeting next week so we'll see. I have been here two years now and we have made great strides, but I've got to think about myself sometimes as well and how I feel about the whole thing.
"Maybe I am a bit over-emotional at the minute, but fourth isn't good enough."
Lennon also took a swipe at his players for wearing the wrong footwear on the night. He continued: "There's a level of professionalism I set, and if players aren't wearing the right footwear then they need to look at themselves – players slipping over because they're wearing the wrong footwear.
"The pitch is good, but it's hard underneath and there's dew on top, so you have to wear long studs. In the first five minutes I had three players slip over, two defenders. Then they're off guard, then they're unsettled, and it's just not good enough, and I gave them the warnings before.
"That's the last thing I said, 'make sure you've got the right footwear on', and five minutes into the game we've got people slipping. So that really riles me.
"If they are not going to listen to me, if I am not getting my message through to them, then maybe somebody else should come in and maybe they will listen to him."
"The two goals we conceded were pathetic.
"Defensively I thought we were awful, normally we're quite solid.
"We emphasised defensive set-plays [in training], and that's the difference between the two teams, a set-play, and that's my biggest disappointment. But we missed some great chances towards the end.
"We've had a great run, I'm really proud of the players, we shouldn't be too down about things. We've got a big game to look forward to and hopefully a full house on Sunday and we'll see what that brings us."