Markle Fishery is busy. It has been on national television lately because of the recent Royal Wedding.
Three TV crews arrived requesting interviews and filmed the fishery which boasts three spring-fed lochs.
Two are stocked with the finest quality rainbow trout, brown trout, blue trout and Arctic charr for fly fishing only.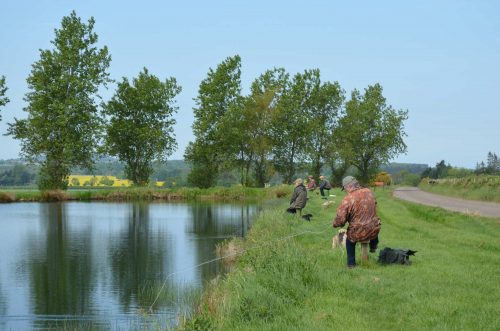 Another loch provides bait fishing for all the family and the location is claimed to be ideal for novices as well as providing a challenge for experienced anglers.
The wedding footage went nationwide but Markle already has a big following with anglers regularly travelling from throughout Scotland and Northern England to try their luck at the fishery set in the leafy East Lothian countryside.
It is an easy ten minute drive by car from Haddington which is just off the busy A1 and you follow the brown signs from the main road.
Then you follow the signs for the village of Markle and the fishery is on the right hand side – if you are coming from the Edinburgh direction – before you go over the level crossing which takes the main line from Scotland's Capital to London.
If you are coming from the south go through Markle and the opening is just after you go over the level crossing.
Group and corporate bookings are welcome and the fishery is the location for a regular fund-raiser for the Scotland team.
FACTFILE:
Contact: Jimmy or Jonathan
Address: Markle Fisheries, East Linton, East Lothian EH40 3EB
Contact numbers: 01620 861213 or 0743 469 3464
Web: www.marklefisheries.com
Open: all year, seven days
Times: 8am to dusk
Car park: unlimited
Species: brown trout, rainbow trout, blue trout, Arctic charr from 2lbs to 20-pound plus
Basic prices: fly fishing: eight hours: three fish limit and then catch and release £22; eight hours catch and release only £14
Basic prices: bait fishing: three fish £12; four fish £15; five fish £18
Concessions: ten per cent discount (see details)
Rod hire: £2.50 for four hours; £5 for a day
Method: fly and bait (no spinning)
Favourite patterns: buzzers (black and silver), PTN, nymphs, lures including damsel and cats whisker plus rabbits
Pegs: 16 in the small loch and 24 in the big loch plus around 20 in the bait pool
No boats
Bait: maggots, worms, power bait and sweetcorn can be bought on site
Outings: contact Jimmy or Jonathan on the numbers above
On-site facilities: Bothy with leather armchairs plus microwave and kettle
BBQ: now available outside the Bothy
Food: snacks including crisps, chocolate and Pot Noodles plus cold/hot drinks
Tackle shop: wide variety of flies and accessories and even clothing for sale
Toilets: male and female
Optional extras: coaching from Jimmy