I found Ken Wolverton partly by accident, but partly as a result of knowing a little about World Community Arts Day (WCAD).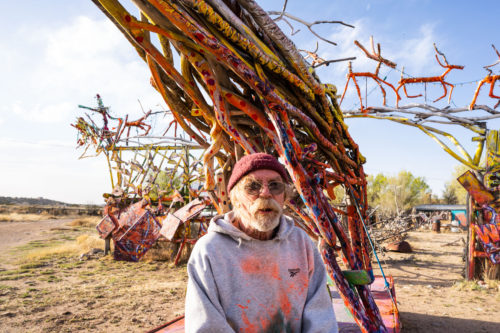 When I interviewed artist Andrew Crummy a couple of years ago he explained that this day had been his inspiration along with his mother Helen Crummy MBE. She was the force behind The Craigmillar Festival Society which began in 1962. Her work The Comprehensive Plan for Action published in 1976 is regarded as a milestone in Community Planning, and her love of the arts and what they could do for the community led to a day recognised across the globe when people are creative, in the widest sense, involve other people and then post it online for all to see. There is more information about World Community Arts Day on their website, where you can also see that the Craigmillar Tapestry was launched on the day in 2017.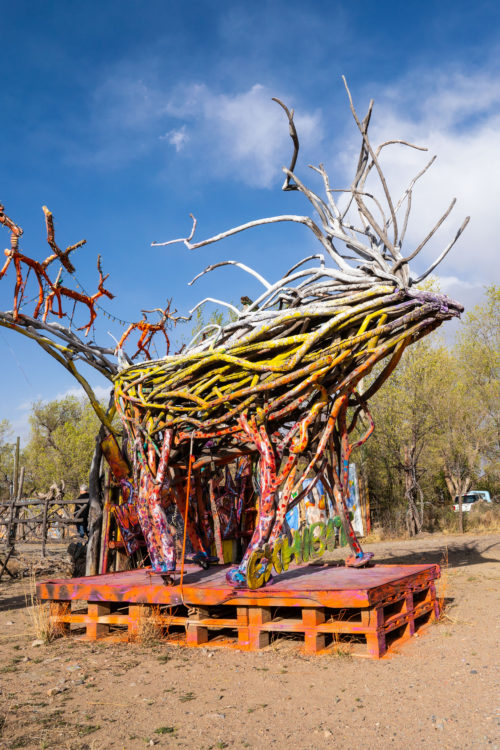 I also knew there was part of this movement in Madrid New Mexico, but did not really expect to find it literally at the side of the road. But there it was, Ken Wolverton's 3115 Studio where he has lived for over 20 years on The Turquoise Trail. And there was the piece of art he had worked on with some volunteers on WCAD 2018 just a couple of months ago.
The magnificent multi coloured stag has pride of place in his front yard. In truth, and in common with many other pieces of his art this is a reworking of a piece he had already created.  He told me later :"It is a piece of kinetic art, and it's not everyone's taste. If you get up close you might wonder what happened in the paint factory, But it is a kinetic low-relief, sculptural mural and you have to see the whole thing from a distance and then all the colours work."
EDINBURGH
I asked Ken about his connection with Edinburgh. He told me that he arrived in Edinburgh on a bike having started his journey nine days earlier in Oxford. He was broke. Although he thought he had a commission to go back to in Santa Fe and imagined himself on a three month painting holiday, the commission fell through. he explained : "I was commissioned by this guy who was a producer with the National movie theatre. He would open up old theatres which had gone bust and start film festivals. He started one in Telluride, another in Crested Butte. 
"He promised me a first class ticket home but the whole deal fell through. I was flat broke in Scotland and did not know what to do. I went down to Henderson's Restaurant because I was starving!  I noticed they didn't have any signs in the window which I mentioned to Nick Henderson and offered to paint a mural for him. I had a little portfolio with me to show him so he agreed. I got £35 and I was allowed to eat there while I was painting the mural."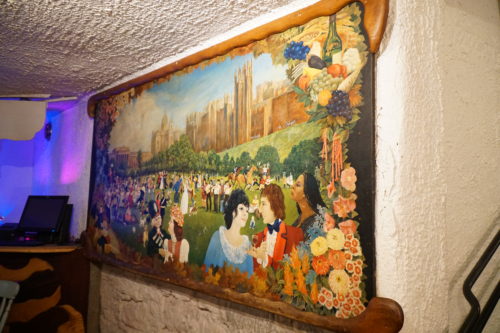 Most of the Henderson family along with some other notable Edinburgh names like Robin Harper the former Green MSP, (but this was when he had a band in the 1970s) John Sampson the international flautist, Mike Rowan better known as Big Rory who has performed all over the world as a giant Scotsman feature in the work. There are others in there that we don't know. If that's you then do let us know!
Ken said he would love to come back to Edinburgh as he spent a good deal of time here here and lived on Arran for some time. There he 'created the first rural Community Arts Project funded by the Scottish Arts Council'. He stayed in Europe for about 13 years in all, but equally he likes being back in the desert. He was born in the desert in Pueblo, Colorado as he reminded me so the weather suits him better in Cerrillos, New Mexico where he lives with partner Ruth.
He said : "I met everybody in Edinburgh – Neil Cameron, Helen Crummy, David Harding, Ricky Demarco, Stella and Tom Elsdale but after ten years in Scotland I realised it rained a lot!"
The registration plates on vehicles in New Mexico say that it is the Land of Enchantment. Ken agrees, and says he is glad to be where he is now.  He is also a sculptor as well as a scenic artist, teacher and festival organiser. 
Henderson's
Back in Edinburgh I went in to Henderson's Restaurant not really expecting that the mural would still exist, but yes, there it was, hanging on the wall where it has always been.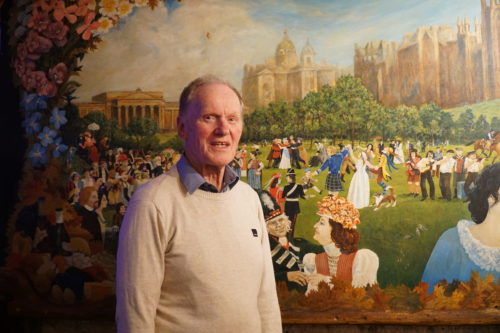 Peter Henderson of the Henderson family told us that he is in the mural – perhaps twice – and that the youngest four of the Henderson family are also depicted. 
Peter remembers that Ken just walked in off the street telling the owners of the vegan restaurant that they really needed a mural   So they agreed that they would commission it but that it would have to include vegetables and vegetarian food, wine (as the space had just been opened up as a wine bar), and Edinburgh people having fun. 
The mural is set in the main part of Princes Street Gardens just west of the galleries showing the whole of The Mound with the Bank of Scotland and New College with the castle tucked in at the top next to the vegetables.
Ken included himself in the mural along with his own brother painted as a cowboy on horseback. Rikki Fulton and Una McLean who were in panto at The King's also feature. But the inspiration for the mural appears to have been a Rubens painting of King Herod's birthday feast which was on display at the National Gallery.
He takes up the tale : "Next day Ken came back with a small sketch on a Henderson's napkin. That was the outline and we did the deal. Everyone who came across Ken remembers him you know.
"Ken didn't have many contacts when he first arrived, but it was opportune when he arrived here. We had just finished the building works here in the wine bar opened as an extension. I was standing here with my brother Nicholas and Ken said I really think you guys need a mural in here!
"He then proceeded to tell us all about the murals he had already painted. We must have agreed the size, and he was going to get meals every day. He also painted it upstairs in the space we used as a gallery afterwards. Then I think he moved it to Great King Street where he was literally living with the mural. There is so much detail in it and many Edinburgh people, some of whom like Rikki Fulton and Una McLean he met while doing other jobs.
"There was a blind musician who used to play on Hanover Street and he is included as a member of Robin Harper's band. We used to have music here every night and Robin played here with a variety of musicians. All of the people involved with Theatre Workshop came here – it was an electric group of arts people like Reg Bolton who moved to Edinburgh in 1970. Henderson's in the sixties was an oasis for people in the arts really."
Reg Bolton became director of the Theatre Workshop, where he produced theatre shows and projects for young people, mainly those living in deprived areas like Craigmillar where the traditional arts community or festival had least impact. This is undoubtedly where the overlap with Ken Wolverton and Craigmillar came from.
Peter continued : "And Ken's granddaughter Rowan came to work with us a few years back too so there is an ongoing connection with him.
"Henderson's was started by our mother Janet when she was already 50 and had seven children. Our father was a farmer and she used the restaurant to make a bit more money. She turned over a bit of the farm near Haddington to growing organic vegetables. It was a lot of fun living on the farm down there!
"She started off selling the vegetables to parents at the Rudolf Steiner school from the back of her Morris Oxford and then got the shop upstairs here in Hanover Street. It was clever of her to open a restaurant here just across the road from The Laigh which was so popular."
Now the restaurant is run by the next generation in Oliver's son Barrie Henderson along with his aunt Catherine. And there are no plans to get rid of the historic mural!
Wolverton claims on his website that there are many other murals around Scotland in Oban, Glasgow although whether they still exist is something he doesn't know.
If you do, then perhaps you would let us know.
Ken Wolverton – New Town to New Mexico from The Edinburgh Reporter On Vimeo on Vimeo.