A device being developed by an Edinburgh Napier University student could revolutionise the way that potential head injuries are spotted in youth rugby.
Euan Bowen, a fourth year product design student at the University, unveiled his product 'HIT' at Edinburgh Napier's Showtime Degree Show – an annual showcase of creative talent from its School of Arts and Creative Industries.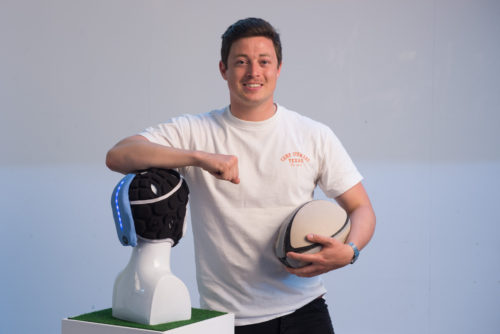 The prototype device – which can be attached to the laces of an existing scrum cap – will incorporate technology that will allow it to light up when a player receives a high impact hit during a game of rugby.
The technology – which is similar to that found in smartphones and fitness devices used to measure steps and workout activity – will help to light up the device when a child receives a tackle or knock that exceeds a predetermined force.
The design of the lightweight attachment has been inspired by a traditional Roman centurion plume and is aimed at identifying a potential head injury rather than preventing one. This is with a view to making it easier for coaches to recognise when a youth player requires treatment and attention.
The 25-year-old – who plays rugby himself for Stewart's Melville RFC – has worked closely with the team's youth division to produce the prototype. He was inspired to work on the idea after a close friend was forced to take time out from the game as a result of concussion.
Euan said: "The idea stemmed from a group project at Edinburgh Napier a while back. I had a close friend that had to take a considerable amount of time out of rugby because of a concussion and it really got me thinking that there must be some sort of way of identifying this type of injury earlier to aid recovery.
"HIT's design is simple. It is a little device that attaches to an existing scrum cap which will light up when a child receives a tackle of a predetermined force.
"The project is all about making youth rugby safer without taking away elements, like tackling, that makes the sport what it is today."
Head injuries in professional rugby have been under intense scrutiny recently, with a host of new initiatives such as the Head Injury Assessments (HIAs) being introduced to the game in an effort to better manage this type of injury.
Despite this, Euan believes that there is still a lack of appropriate support and guidance on identifying and treating head trauma in school and youth rugby.
He added: "Positive steps have been taken in professional and semi-pro club rugby in terms of preventing and identifying head trauma. However, I believe that kids are notorious for keeping things to themselves so there are still a lot of potential incidents going unnoticed at youth level.
"HIT lends itself to school and youth rugby very well as at the moment a coach is really dependent on a child being honest with them or on their own gut feeling in determining whether or not an injury has occurred.
"Youth rugby players really do come in all shapes and sizes so anything we can do to help identify this type of injury as early as possible will mean that the game we all love so much will be in good stead for years to come.
"HIT isn't quite the finished product yet. I'm looking to speak to anyone who may be interested in helping me get this over the finishing line – particularly with some of the technical aspects of the device.
"I feel the device has the potential to revolutionise the way head trauma is spotted in youth rugby and I'm looking forward to further developing it in the coming months."
Bruce Ruthven, rugby co-ordinator at Stewart's Melville College who oversees the youth section of Stewart's Melville RFC, said: "Sporting injuries relating to head knocks are very prevalent in rugby union and are gaining a lot of exposure in the game. Scottish Rugby is one of the leading governing bodies addressing the issues, safety protocols and measurements of head injuries and it is great to see that Euan has taken significant interest in this area to assist towards the safeguarding and protection of our players.
"His findings and research are both inspiring and appreciated by the rugby community and we look forward to seeing the development of this ground-breaking project."