Steven Spielberg's film adaptation of Michael Morpurgo's novel echoed the subtle homage to Erich Maria Remarque's 1928 devastating anti-war polemic, All Quiet On The Western Front, later filmed by Lewis Milestone in 1930. (Unsurprisingly, Hitler had all available copies burned in the 'decadent' purification hysteria.)
Remarque's narrative threads weave tragic, elagaic tableaux where a platoon of rookie German soldiers, each in turn, take possession of a bespoke pair of leather boots on the death of their previous owner. Similarly, War Horse, Joey, passes through the hands and reins of soldiers on opposing sides.
Each a poignant, inevitably volatile story in itself. Morpurgo, ostensibly a writer for younger readers, touches on ageless, universal themes of hope over-coming despair, courage under duress and the cathartic resolution of the tribulations of the Everyman/woman and child rendering the incredible credible. His tales are contemporary fables revealing self-evident truths seamlessly woven within timeless, moral archetypes. Appropriately, Capital Theatres have dovetailed War Horse and Birdsong to mark this year's centenary remembrance of the Armistice.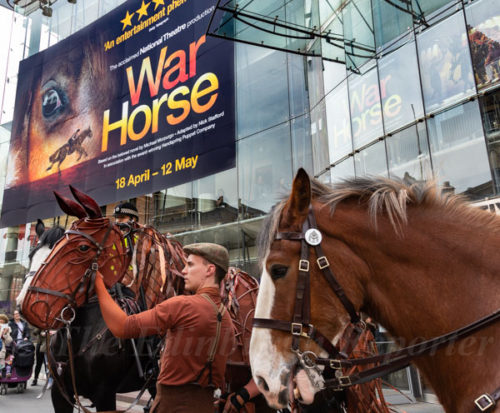 National Theatre triumphantly leads this War Horse to water and audieneces near likewise bathe in tears of captivated wonder. Horses snort and stomp, their fetlocks shuffling and whinnies steaming are complemented by subtle trots and balletic canters. The catastrophic cavalry charges – medieval tactics meet industrial carnage – where man and horse are slaughter-scythed by crossfire machine guns, are as mesmeric as they are hideous.
Superlatives have been near, but not quite yet, exhausted on Nick Stafford's adaptation lending – ahem – full-rein to the articulated brilliance of Handspring Puppet Company. An ecstasy of equine articulation this horse shoos away any doubts that a puppet can come alive. A first past the post thoroughbred production that tugs on the heart strings and has the audience champing at every bit for more.
Describing War Horse as an  'Anthem for Peace', Morpurgo combines anthropomorphic allegory with essential, sentimental certainties allowing Stafford, Handspring and the superlative cast to guide Joey and young Albert, as both symbyotic avatar/centaur, into the psychosis of The Somme's air-burst shrapnel mud and blood-bath carnage.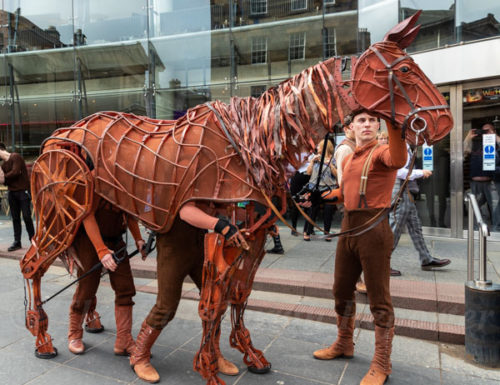 All the King's horses' exoskeletal equine elegance, are a balletic suspension of belief – in the horrific charges – almost beyond belief. The transitional Devon Folk singer's refrain of John Barleycorn seeing Winter turning to Spring resonates wryly. That so many, once isolated rural and industrial areas of Britain were spewed into and expediently eviscerated in the cauldron of the Western Front is ironically best marked when the Geordie soldier wins the toss against the German who helps free Joey from the tangle barbed-wire nightmare. 'Well, he's wor horse now, man!'
Both stretchered soldiers and flogged exhausted horses are graphically framed as pale, staggering wraiths by Paule Constable's lighting design. The challenge of conscience and perspective between man and beast's mutual suffering – Joey's anthropomorphic empathy as displacement – is ever present – 'Why do you not show as much pity for you comrades?' Beckons an enraged officer.
This evening is every expectation excelled.
Let the braver neigh-sayers predict when this production becomes a matter of flogging a dead horse. About the same time as war is a thing of the past. There's some horse-sense in that at least.
https://www.capitaltheatres.com/warhorse