We have given you fair warning. Do not go to Fazenda unless you are really hungry!
This is a very welcome addition to the Edinburgh restaurant scene but it is one that will require some dedication to food. From the salad bar to the vegetarian options (yes in the interests of a complete review I tried those too!) everything is very tasty and visually appealing. And it makes you want to try just a little of everything. The fixed price structure makes this very easy to do, and you may sample dishes you might not otherwise choose.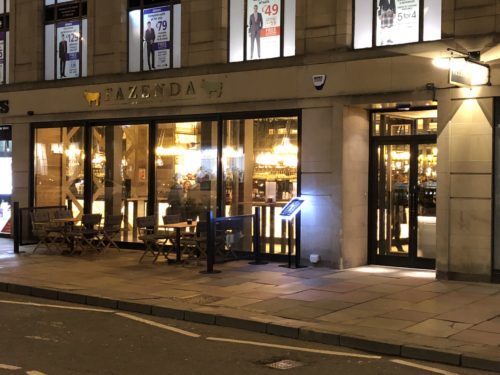 The choice for vegetarians is actually very good indeed, ranging from the salad bar to hot dishes which are served at your table. The Beterraba and Requeijão gnocchi (beetroot gnocchi to you) were delicious as well as colourful. For those who eat fish there are a couple of fish dishes to choose from too.
Although I hesitated over the chicken hearts, I am told they were delicious, as indeed was everything else.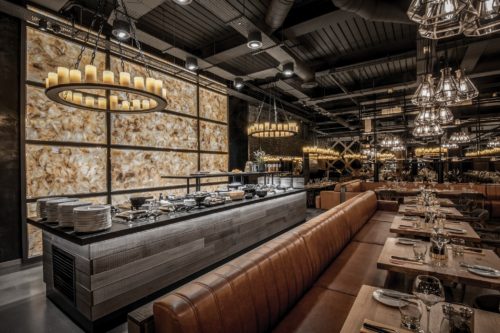 You proceed to the salad bar first of all to choose from the many options there. The gourmet salads are set out with cheeses, fresh cut vegetables, breads, continental meats such as chorizo and salami alongside hot dishes such as the traditional Brazilian Feijoada which is a bean stew.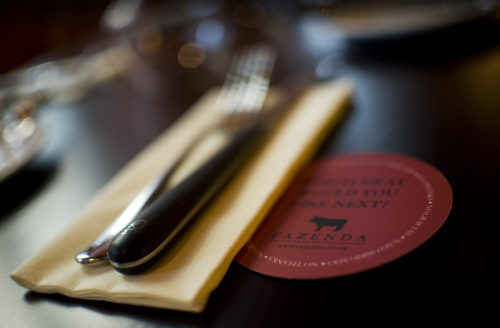 The meat is cooked on skewers and then served whenever ready, usually medium to medium rare, although they will serve it how you like it. The rodizio way of serving grilled meats carved at the table includes prime cuts of lamb, chicken, pork and beef. One highlight is picanha which is the restaurant's signature dish,  a juicy flavoursome cut from the cap of the rump, but special mention must be made of the lamb too.
You only get a small slice of each, although if you keep on eating they will keep on bringing you more. You set the pace of the meal by using the double-sided card provided which is red on one side and green on the other. If you keep it on green the waiter will constantly be at your table slicing a morsel of delicious meat for you, but you may turn it over for a short break.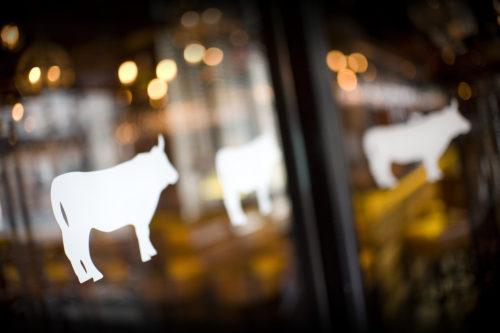 The 175 seater restaurant is in the building formerly occupied by Jaeger on the corner of Castle Street and George Street. The spacious eatery has a small private area to one side but otherwise there is a selection of table sizes with leather covered booth style seats and chairs which invite you to linger.
Fazenda will perhaps draw diners a little further along George Street than they are used to at present, with all the recent restaurant openings happening on St Andrew Square.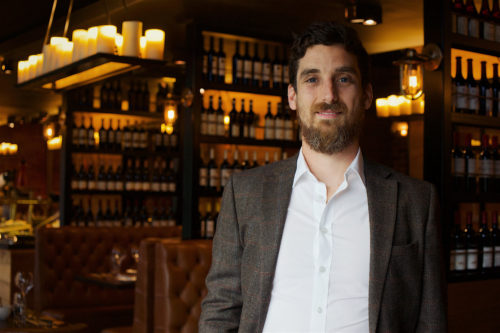 Although this is part of a small chain, there is a real personal involvement by the owners, and I dined along with other foodie writers with Tomas Maunier who is the Sales and Marketing Director, and one of the founders.
Tomas calls himself Argentinian, but although that is where his family are from, he was born in Brazil. He now lives in Yorkshire having moved here 11 years ago with his wife. Trained originally as a lawyer he then decided to move into marketing, working at one time with HBOS in Halifax.
He speaks both Spanish and Portuguese and is  passionate about good food and wine.  He was keen to tell us all about the beginnings of the Fazenda idea which has now branched out to Leeds, Liverpool, Manchester and is looking for suitable premises in Glasgow.
He met Robert Melman who had a small Argentinian restaurant in Huddersfield and together they decided to open a very different kind of restaurant, the Rodizio way of eating.
They want people to be taken on a journey by visiting a restaurant that feels like they really are in São Paulo or Rio de Janeiro. Rodizio originated with South American Gauchos who would cook a massive piece of meat on an open fire, slicing off pieces with huge knives as and when it was ready.
Tomas appears to keep a close eye on all the restaurants in the group, holding Captain's Table style meals wherever he goes. He was fretting a little over the lighting levels in the George Street restaurant and making a note to himself that it needed some alteration. This attention to detail has clearly paid off as this is now the fourth restaurant the duo have opened.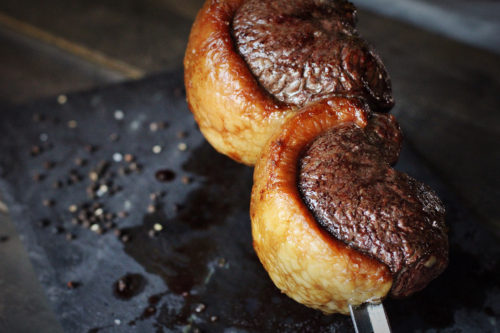 This social way of eating has now been introduced to the George Street restaurant, and it is an environment ideal for eating in groups large and small.
I cannot really tell you what my favourite was, except that even if you don't have the gammon, do try the cooked pineapple which is simply delicious and refreshing.
We had a very nice evening with @TMaunierFZ eating at the newest Edinburgh restaurant Our advice is be hungry, be very hungry! @FazendaGroup pic.twitter.com/O2jscqiiQr

— Edinburgh Reporter (@EdinReporter) 21 February 2018
Yes, I tried puddings too all in the interests of telling you about them. The selection of five mini desserts was an excellent way to try them all. You can also plump for cheesecake, creme caramel, sorbets or ice-creams. The desserts come at an additional cost as do coffee and an extensive selection of after dinner drinks.
One diner said : "The meat had a lovely texture and was full of taste, and the salad selection offers a huge variety. All the food I tried was extremely fresh and well presented."
Another diner who used to live in São Paulo told us that this restaurant really was every bit as good as those in Brazil.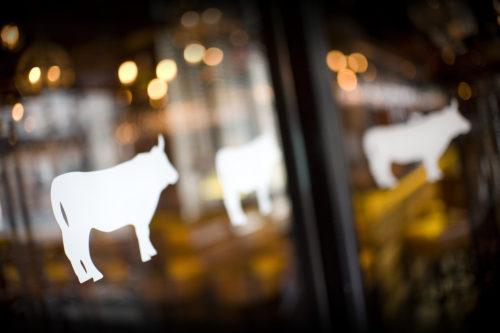 One final thing. Do go downstairs to the loos. The wonderful wood lining on the walls of the staircase make this descent reminiscent of the aroma you find only in a sauna. And ladies, there are loads of loos. No longer do we have to stand around waiting for the one or two cubicles to become free. A very welcome touch in any restaurant!
The doors open on 23 February 2018, but you can make your booking now.

Fazenda
Lunchtime Selection: Weekdays £19.50 | Weekends & Bank Holidays £21.50
Evening selection: Mon – Sun £32.50
Children: Under 5 yrs Free | 5 – 8 yrs £6.70 | 9 – 12 yrs £10.30
Vegetarian / Vegan / Fish Lunchtime Selection: Weekdays £18.50 | Weekends & Bank Holidays £20.50
Vegetarian / Vegan / Fish Evening Selection: Mon – Sun £23.60