Jackie Kay, Scotland's national poet, is to take up residency at Young Scot to inspire Scotland's young people through the power of poetry.
The Makar will be supported by Young Scot to continue her work to connect more young people with poetry than ever before. Using Scotland's Year of Young People 2018 as a catalyst, Jackie will continue inspiring a new generation of Scottish poets and poetry lovers.
While at Young Scot, Jackie will lead a national programme to help the country's young people find their voice through exploration of the theme of 'place'.  With support from Young Scot and partners, the Scots Makar will not only create opportunities for young people to participate and engage with poetry but will also nurture the appreciation and understanding of 'place' to stimulate thought and creativity.
The project will celebrate and share the emotions and experiences of young people growing up in Scotland.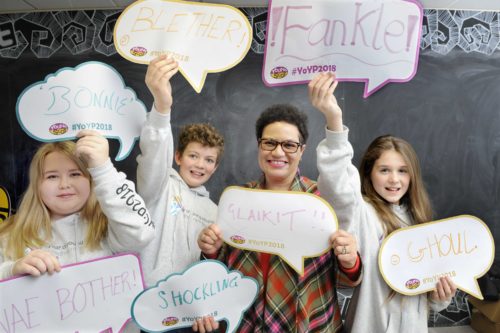 In a year dedicated to celebrating young people and inspiring the nation through their voice, Jackie will actively support by providing young people with new skills and further platforms to express themselves.
Jackie Kay, the Scots Makar, said: "I'm excited to be working with Young Scot – a chance to meet and hear from the many diverse voices of young people in Scotland, to listen to their stories and to work together with them, from place to place, to create together a young Makar's map of Scotland. Young Scot is an organisation I hugely admire. I'm looking forward to making poetry part of the conversation."
Culture Secretary Fiona Hyslop said: "I know that Jackie Kay is passionate about inspiring more young people to enjoy poetry, and to write it themselves. This partnership with Young Scot, together with the Year of Young People 2018 gives us an ideal opportunity to create a generation of poetry lovers, and to celebrate the lives of Scotland's young people."
Louise Macdonald, Chief Executive of Young Scot, said: "Jackie Kay's poetry is part of the cultural fabric of Scotland and beyond. It's honest, powerful and outspoken – like many of our young people. She's an inspiring person and we're incredibly excited to host her during the Year of Young People 2018. I can't wait to see the work that she produces and the voices that she helps nurture from the young people of Scotland."