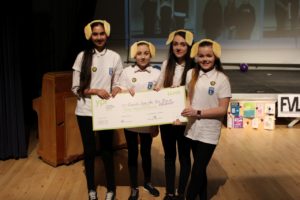 Pupils at Dalkeith High School will make a difference to someone living with sight loss after being awarded £3,000 of funding for the charity Guide Dogs following a group project.
Nain Tara Raja, Louise Patterson, Millie Scally and Abby Pearson, together with teacher Amy Taylor, secured the donation after winning the prestigious Youth and Philanthropy Initiative.
Community Fundraiser for Guide Dogs, Anne Rowse, said: "The funds were raised through the group's successful application for the Youth and Philanthropy Initiative, where they explored the work of our charity and the impact we have on the people we support.
"They then had to wholeheartedly represent Guide Dogs against very stiff competition to attract this funding.
"The girls have chosen to use £2,500 to name a guide dog puppy 'Bracken' and support him through the first year of his training. They will receive regular updates about Bracken and will also get to meet him before he goes to guide dog training school.
"They also chose to sponsor a class of puppies for £300 and have donated the remaining £200 to help us buy vital equipment. I can't thank the pupils enough for their work in making such a life changing difference to people with a visual impairment."