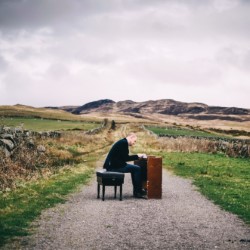 Music (folk, film)
The fundamental essence of the Highlands' natural wonders distilled. Could this be an upstart artisan usquebae? Not quite, but something of equal, immersive ecstasy to shiver the heart and senses.
Speaking of Scotland's Wild Heart, narrator Ewan MacGregor said, "It's incredibly beautiful and made me incredibly homesick. On the face of it, the Highlands look bleak and lifeless, but wildlife is thriving in this unforgiving place if you know where to look."
Folk traditions meet orchestral grandeur in this audio-visual spectacular. A world-class ensemble led by award-winning composer Donald Shaw (Capercaillie) features the cream of Scotland's musicians, including Patsy Reid (Fiddle), Michael McGoldrick (Flute & Pipes), Aidan O'Rourke (Fiddle), Catriona MacKay (Clarsach), Sorren MacLean (Guitars), James MacKintosh (Percussion) and the SWH String Section led by 'Grit' orchestrator Greg Lawson.
They will perform Shaw's stunning soundtrack live to specially edited HD clips of the sublime Maramedia/BBC nature film 'Scotland's Wild Heart', immersing you in the landscape and seasons of Scotland.
The BBC Series Highlands: Scotland's Wild Heart was three years in the making and involved more than 500 days of filming. The films explore the changing seasons through locations that range from the splendour of the Cairngorms and dramatic northern seascapes, to the ancient Caledonian pine forests and the depths of iconic Loch Ness.
The first episode, Spring – The Season Of Extremes explored the annual muir-burn, in late March, which takes place in the Cairngorms. This inferno marks the end of winter and helps heather regenerate and sprout new shoots in readiness for the grouse season. As the flames rise, the cameras are able to capture a stunning bird of prey – an osprey – returning from its wintering grounds in West Africa. Filming it for the first time in super slow-motion, every detail of the bird's incredible fishing behaviour is revealed in never-seen-before footage.
"It's a land scoured by ice and weathered by storm; rugged coast, bare mountains and water. The seasons may be harsh and the opportunities fleeting, but animals and people have found ways of succeeding here. That's why ospreys return here every year. It's their home – in Scotland's wild heart."
Much of the compelling soundtrack was written by Scottish composer Donald Shaw, with additional composition and sound-design by Simon Ashdown.
Shaw is an acclaimed Scottish musician, producer and award-winning composer. He has recorded and collaborated on over 100 albums with musicians in all styles of music, created many film and television scores, and directed large-scale live commissions.
He has toured worldwide with Capercaillie – the folk band he co-founded whilst at school in Argyll – who have gone on to sell over a million albums for their unique sound of Gaelic songs merged with contemporary soundscapes.
In the last 20 years he has recorded and performed on piano in many unique scenarios, with artists such as James Taylor, Alison Krauss, Mark Knopfler, the Halle Orchestra, Vicente Amigo, Rosanne Cash, Philip Selway (Radiohead) and legendary jazz saxophonist Ornette Coleman.
1 hour 10 minutes. Suitability: U
World Premiere – Edinburgh Festival Fringe 2017 – The Queen's Hall
August 22nd 8pm / August 23rd 7.30pm & 9.30pm
https://tickets.edfringe.com/whats-on#q=%22Scotland's%20Wild%20Heart%22