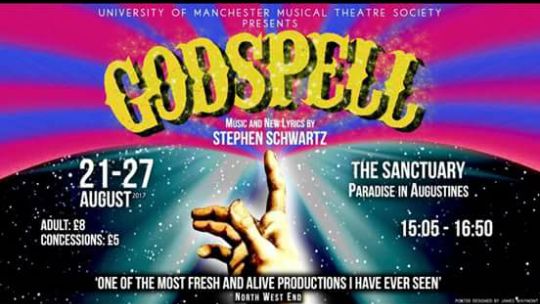 Well, here's a thing. Godspellwas first performed at the Carnegie Mellon University Theatre in Pittsburgh 37 years ago – who'd have thought it? Certainly no-one who sees the University of Manchester Musical Theatre Society's version. This spectacular production of the musical that brought us the likes of Prepare Ye the Way of the Lord and Day by Day is fresh, energetic and full of excellent solo and ensemble performances.
Godspell is essentially the story of Christ explaining parables from the Gospels of Matthew and Luke to his followers, a group of men and women each with their own ideas and foibles. Songs and dances illuminate the narrative as Jesus's message of love and devotion gradually becomes clear to the assembled crowd.
The play opens with Jesus himself (the excellent Dom McGann), back to the audience, making an intriguing statement;
'My name is known: God and King. I am most in majesty, in whom no beginning may be and no end.'
Before we've had time to start worrying about who is Jesus and who is God (theologians among us are welcome to ponder that one), the lights go up and we are straight into the action, as the cast become philosophers from Socrates to Jean Paul Sartre, each proclaiming a different ideology. Here and throughout the show every actor's diction and projection are excellent; these are so often lacking in amateur productions – if the audience can't hear you, you might as well be reading out a shopping a list, but there's no such problem with UMMTS.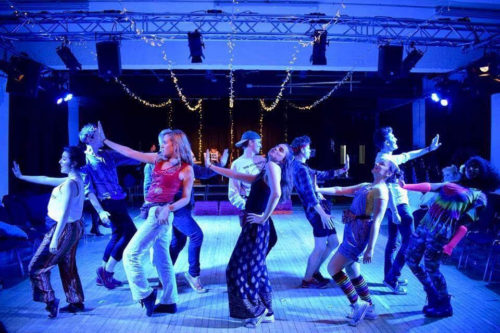 Cue one of my favourite moments; the arrival of John the Baptist. Jordan Jones – who seems made for this role – makes a sensational entrance, all dark shades, Rolling Stone T-shirt and swagger. Having him sashay in from the back of the audience really ups the ante; we know he's Mr Big (or Mr Big so far…). Jones has great stage presence; all eyes are on him in no time and he never fails to deliver. Prepare Ye the Way of the Lord is one of Godspell's enduring hits, and Jones and the cast do it more than justice.
Singing is outstanding in this show; the women in particular have terrific range but everyone is very good. Highlights for me included Day by Day – a beautiful rendition in soloist Aine Mallon's pure and clear voice – and All Good Gifts, the lead here taken by Hugh Summers a tenor with fabulously rich, mellow tones.
One of the many excellent aspects of this production is the sheer enthusiasm radiated by every performer; as the lady sitting beside me said 'They really look like they're enjoying themselves.' But it's the expert control coupled with that enthusiasm that makes this show so good; every single performer, whether centre stage or in the background, is fully aware of the audience at all times – there is no loss of concentration. They do indeed look like they're having fun – and so are we; that enthusiasm is infectious.
The show uses few props and it uses them well. There are some effective new ideas; John the Baptist baptises both cast and audience members with glitter; in one of the final scenes the cast pass round baby wipes to remove their crosses, signalling both the end of the fun and their own forthcoming betrayal of Jesus.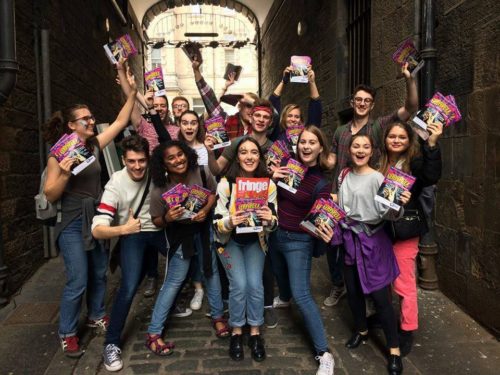 Lucy Scott and Sharissa Lee, the show's choreographers, are to be congratulated for their superb work; the dance numbers are fast-paced, well thought out entertainingly varied, with Learn your Lessons Well a particular stand-out. The dancing is every bit as good as the singing, Tom Carswell being a star of the action, sometimes going off into little (and very amusing) sorties of his own, but always within the context of the scene. His facial expressions are a masterclass in entertainment.
We all know that Jesus' story didn't end too well. A sudden, short scene amid all the jollity, well played by Jordan Jones and Dom McGann, reminds us of what is to come. John the Baptist is face to close face with Jesus in darkness;
'Men will revile you.'
Then it's back to the action, with the cast flying along to All for the Best.
There is a sharp change of tone in Act Two. Things start to unravel; people question Jesus's motives. His followers walk away from him, standing in a line with backs turned. Jesus is going to be betrayed by Judas (and it is a mark of Jordan Jones' acting ability that he can switch to this conflicted role so convincingly.) In We Beseech Thee Jesus is apart from the crowd, watching from a ladder; he's already preparing to leave them. Soon that same ladder will become a cross.
The crucifixion scene is exceptionally moving; the whole cast express their grief so well that I felt quite tearful myself. Dom McGann gives a magnificent, nuanced performance throughout, really communicating the doubts and fears of Jesus the man but never losing the feeling of separateness and difference he feels from those around him.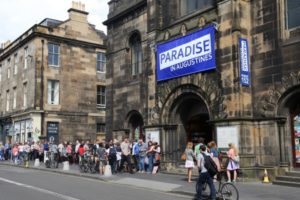 The show ends with a triumphant counterpoint performance of Long Live God and Day by Day. This bursts open the sombre atmosphere of the previous scene and allows all of us, from committed Christians to dyed-in-the-wool atheists, to go on our way rejoicing.
This production is a testament to the skill, hard work and passion of the members of UMMTS, both cast and crew. The musicians should also be mentioned; under the direction of Matthew Quinn their playing complemented the action perfectly.
The only point at which the sound did slightly muffle the words came in the very first scene, when it was a bit difficult to hear Jesus's opening words; if the background recording could be a little quieter here it would be easier for Dom McGann to be heard, as I'm sure it's hard to project your voice backwards. This was only the second Edinburgh performance of the show – there were a few tiny slips with lines here and there, but these will easily be ironed out (and in each case the actor made a fast and seamless recovery.)
UMMTS's Godspell is a hugely enjoyable, uplifting show for all the family. You'll come out singing, even if it is in the rain. Highly recommended.
Godspell is at Paradise in Augustines, 41 George IV Bridge (Venue 152) at 3.05pm (ends 4.50pm) every day until Sunday 27 August. Tickets £8/£5 here.