Yesterday at the Royal Highland Show M&S announced the winners of their Farming for the Future awards.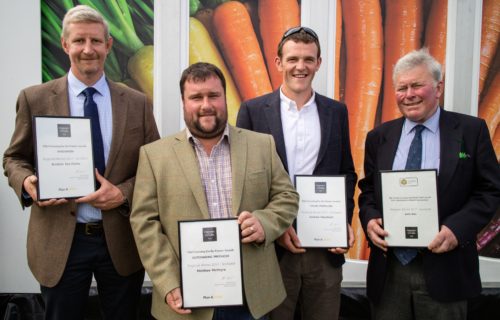 The winners were:
Outstanding Producer award:
o   Matthew McIntyre, along with his father, Euan, grow 120 acres of fruit, including 30 acres of cherries, at his family's farm in Blairgowrie which are supplied to M&S through Berry Gardens Ltd. Through a combination of changes to extend the growing season, the McIntyre's are now able to supply cherries to M&S into October and therefore much later than any other supplier in the world.
o   Andrew Houstoun, 26, farms in partnership with his father and mother, David and Morag, at Glenkilrie Farm in Blacklunans, Blairgowrie. The farm runs 160 suckler cows and 1,100 breeding ewes and as an M&S Select Farm, all of their lambs are procured for M&S through Scotbeef Ltd. Andrew has shown commitment to farming in balance with the local environment and implementing news ideas to improve the long term sustainability of the farm.
Innovation Producer award:
o   Scottish Sea Farms runs salmon farms across the west coast of Scotland, as well as Orkney and Shetland, and is the exclusive supplier of Lochmuir Salmon to M&S. One of the key points of difference with Lochmuir Salmon is the high level of healthy Omega 3 oils that the fish contain. The company is committed to sustainable production of Lochmuir Salmon and being innovative in sourcing alternative components for use in Lochmuir Salmon feed.
The Prince's Countryside Fund Award*
o   John Bell is the second-generation of his family to farm at Fairfield Farm in the East Neuk of Fife, supplying beef and lamb to M&S through Scotbeef Ltd. His commitment to supporting the next generation of farmers and excellent farming practices impressed the judges.
M&S Farming for the Future is a programme of initiatives which champions sustainability and innovation. The programme is designed to help farmers identify opportunities for improvement, increase their profitability and provide a sustainable supply chain that can continue to deliver quality and innovation for the long term.
Steve McLean, Head of Agriculture and Fisheries at M&S said: "The Farming for the Future awards are now in their tenth year, acknowledging the dedication and commitment our farmers and growers are making towards Plan A and sharing best practice amongst the agricultural community across Ireland and the UK.
"Andrew, Matthew, John and Scottish Sea Farms are very worthy winners who have all demonstrated innovative thinking, commercial success and social responsibility in the way that they manage and execute their businesses."