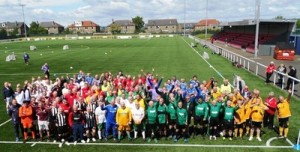 The Scottish Walking Football Festival is taking place tomorrow, Saturday 24th June at Glasgow Green Football Centre at 11.30am. There will be 32 teams competing from across Scotland, up from 24 teams at last year's event.
This will be the third such event with the previous two being hosted by Spartans at Ainslie Park.
In 2015 Hibernian won the tournament and last year Montrose took home the trophy.
Hearts are fielding two teams, Hearts 56 and Hearts 98 to commemorate Scottish Cup winning years.
Midlothian who finished runners up last year are also fielding a team.
Tomorrow's  tournament will be attended by the Minister for Public Health & Sport, Aileen Campbell.
Also tying on their football boots again will be ex-players and BBC commentators, including Barry Ferguson, Derek Ferguson, Alex Rae, Joe Miller, Graeme Spiers and Kenny Macintyre. The 'voice' of Scottish football, Archie Macpherson will be presenting the medals to the winners.
The festival will be hosted by Glasgow Sport with support from Paths for All. The winners of the festival will represent Scotland at this year's UK Walking Football Championships.
Walking Football is the slowed down version of the beautiful game. The sport has grown rapidly across Scotland by allowing people to reignite their passion for football, despite injury or illness, simply by slowing things down. There are now over 60 walking football sessions every week across Scotland.
The Walking Football initiative is supported by Paths for All, a Scottish charity who aim to create a happier, healthier Scotland through increasing physical activity opportunities for everyone no matter age or income, with funding from the Scottish Government.
Minister for Sport, Aileen Campbell, said: "It's really important that everyone stays active, regardless of their age, and that's why walking football is so fantastic. It's a great way for people to continue to enjoy the sport into their 50s and beyond.
"I'm delighted to have the opportunity to support this year's walking football festival and look forward to playing in my first match – good luck to all taking part!"
Ian Findlay, chief officer at Paths for All, said: "We are really looking forward to this year's festival with 32 teams registered for the right to be crowned Scottish Walking Football Champions 2017.
"Walking football has seen a massive growth over the last few years with over 600 players taking part in games across Scotland on a weekly basis. The benefits of playing walking football include improving physical health, mental well-being and building new friendships.
"We are working towards setting up a national organisation, Walking Football Scotland, which will help develop the game nationally, support the league and increase participation by supporting new teams. The sport aims to welcome everyone, no matter age or ability. It's about taking part and enjoying the beautiful game again.
I'm sure there will be loads of laughter and friendly banter throughout the day of the festival. I would encourage everyone to come along, support the teams, find to out more and have a go at playing walking football."
Football Participation Officer Matt Ramsay said: "We are delighted that MSP Aileen Campbell (Minister for Health and Sport) will be in attendance and I have had confirmation that BBC Sportsound team will include a few familiar faces to promote the event.
"BBC is going to go live during some of their matches, hence a tweak to their group fixtures to coincide with the time they are live on air.
"I am sure that this will add extra excitement to the event which will hopefully then have a lasting legacy of the event with more and more over 50s wishing to get involved in Walking Football across Scotland.
To find a Walking Football club in your area visit pathsforall.org.uk/walkingfootball