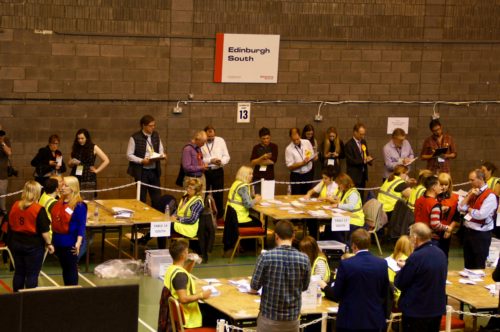 At 4:00am the results were coming in thick and fast and Ian Murray was reelected as the MP for Edinburgh South, with a massively increased majority.
In 2017 votes cast for the Edinburgh South candidates were as follows :
Alan Christopher Beal, Scottish Liberal Democrats – 1,388
Jim Eadie, Scottish National Party (SNP) – 10,755
Ian Murray, Scottish Labour Party – 26,269
Stephanie Jane Harley Smith, Scottish Conservative and Unionist – 9,428
Ian Murray was previously the only Labour MP in Scotland, but is now set to be joined by several colleagues just elected this evening.
The SNP, although unable to claim Edinburgh South as their own increased their share of the vote.
The constituency covers Merchiston and Morningside to the west; Danderhall in the east, with Liberton, Gilmerton and Blackford in the middle.
Since 1987, the area has voted in favour of Labour. Tonight, amidst political change in the UK and having endured a referendum on Scottish Independence, a referendum on the European Union, and maintaining Labour sentiments whilst every other constituency in the city turned to the SNP, Edinburgh South has voted again for their Labour candidate.
 "I stood here two years ago mourning the loss of my colleagues but tonight the Scottish Labour party is back".
In 2015 the turnout was 75% and the SNP came a close second with 16,656 votes against 19,293 votes cast for Ian Murray. SNP came in at a mere 10,388 compared to Ian Murray's 26,269. This year, voter turnout was 74.22%.
Tonight the SNP strongholds diminish but Ian Murray still maintains control over his constituency;. He said : "To the other six Labour MPs now in Scotland, this is a sign that we do not give the Prime Minister a blank check for a hard Tory Brexit."