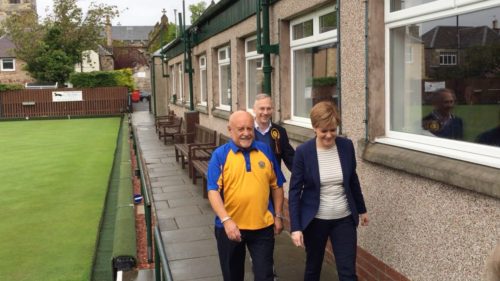 Jim Eadie is standing as the SNP candidate in Edinburgh South. Today he met with supporters at the local bowling club where he was joined by SNP Leader, Nicola Sturgeon.
Mr Eadie said : "We have been out campaigning for the last several weeks, out on the doorsteps every day, speaking to voters across the constituency and getting our message across.
"I want to be a strong campaigning MP for the south of Edinburgh and to stand up for the people and the communities who live here. I want to be a strong voice, not just for Edinburgh South, but joining a strong team at Westminster who will always speak up for Scotland and who will stand up to the Tories against the damage that they are inflicting on people in Scotland and across the UK."
Although it is an impossibility for the SNP to form the next UK government since they can only have a maximum of 59 out of 650 MPs, Mr Eadie is keen to point out that they can do a lot of good at Westminster. He continued : "We have said in this election as we did in 2015 that we would join with other parties, the Labour Party and others, to lock out the Conservatives. There is no way that we would want the Conservatives to be in government when we have any influence over the outcome of the election. Unfortunately the Labour Party is too weak and too divided south of the Border to be alternative government in waiting. What the SNP offers is a strong voice against the Tories, and we have shown in the last government that we can be an effective opposition."
Today's campaign message was all about pensions, so this was a perfect place to meet the people who might be affected by the Tories plans to abandon the so-called 'triple lock' on payments to those who have retired. The triple lock was introduced by the Tory LibDem coalition in 2010 and it guarantees to increase the rate of pension by a minimum of 2.5% or the rate of inflation if higher.
This was a move to ensure that any increases would be real and meaningful in light of any increases in the cost of living. Some analysts say that the cost of this could be as much as £45 billion in the next 15 years. Rather than abolishing it completely the Tories in their manifesto have reduced the protection to a proposed double lock which is based only on earnings and prices. Nothing will change until 2020.