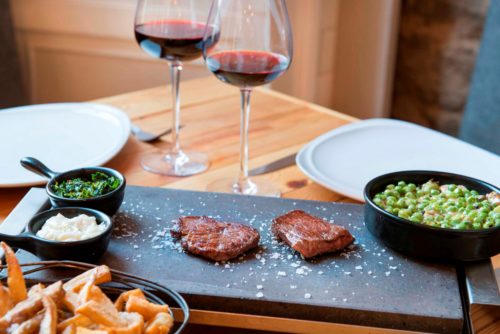 Stephanie our superb waitress delivered the stone heated to 350 degrees to the table along with thin slivers of succulent, raw steak.
A bowl of salt accompanied the delivery and we were advised to sprinkle it on the sizzling stone to aid cooking.
Yes, you do it yourself. A good thing in our case as Pam likes medium-rare and I adore rare steak.
So, there is no blaming the chef if your meat – I enjoyed sirloin and Pam fillet – is not done to your liking.
It's a concept which may be alien to many who enjoy dining out and having a night off cooking.
This is a different experience. The cooking element provoked much debate but the end product, providing you got it right, was superb.
There were seven sides to pick from. I debated over garlic field mushrooms but eventually went for a simple baby leaf and tomato salad. It arrived with a delicate dressing. The juicy tomatoes and fresh leaf worked well but I felt a shaving of red onion would have delivered an extra crunch and flavour to the dish.
Also ordered were beef dripping chips and a tasty mound arrived. Pam ordered sweet potato fries plus creamed peas, leeks and bacon side. The peas were packed with flavour.
To start, Pam's haggis, black pudding and sage fritters with mustard mayo were a delight.
Each flavour stood out and it was no surprise to learn that this was amongst the most popular starters on the menu.
However, my smoked paprika baby squid was a real disappointment. The paprika did not stand out and the squid was rubbery. Thankfully, the lime dip was there to lift the dish.
We were sorely tempted by the chocolate fondue to share. It comes with fresh fruit, berries, marshmallows, popcorn and shortbread, but no.
Steak on Stones was busy. The man seated next to us pops in every month when he is on business from France.
Other clients when we visited were tourists and people going to the theatre. It is opposite the busy Playhouse.
Students apparently love it as their steak sizzler (available Sunday to Thursday) is £12 for a 150g rump steak, beef dripping chips, sauce and mini stacked pancakes.
The restaurant is housed in what must have been an elegant dwelling at one time.
However, the entrance is off-putting. You walk down a corridor with a beer and skittles alley downstairs and a dark restaurant in front of you.
Steak on Stones is to your left. It is confusing but, overall, we enjoyed the music and the experience.
Steak on Stones
14 Picardy Place, Edinburgh EH1 3JT
T: 0131 556 1289
www.steakedinburgh.com