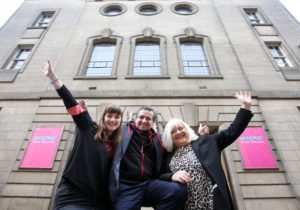 It's the time of the year when thoughts turn to who will be starring in the Edinburgh Fringe in August. For the first time in 24 years, Scottish comedian Craig Ferguson will headline the inaugural Gilded Balloon at Rose Theatre programme – a major new festival hub for the 2017 Edinburgh Fringe – with The Craig Ferguson Show.
Karen Koren, Artistic Director of Gilded Balloon who will soon be handing over the reins to her daughter Katy, has announced that Gilded Balloon will expand into the heart of Edinburgh's New Town, as they embark upon an exciting new partnership with the Rose Theatre. This year, Gilded Balloon at Rose Theatre will open its doors to present an eclectic programme of over 40 productions, from acclaimed musical theatre, through drama, comedy and cabaret, to Edinburgh's very own panto kings and as well as Scotland's very own Craig Ferguson.
The Rose Theatre is housed in the former site of the Charlotte Baptist Chapel and will open its doors to the public during the 2017 Edinburgh Festival Fringe, following a £1.8million conversion and refurbishment, presenting a programme in partnership with Gilded Balloon.
Making the announcement, Karen Koren said "Gilded Balloon is looking forward to working with Peter Schaufuss and the extraordinary Rose Theatre during the 70th year of the Edinburgh Festival Fringe. We are all incredibly excited to be bringing the Fringe to the West End, expanding into a brand-new home that's a stone's throw away from the Book Festival. I first worked with Craig Ferguson in 1985, and I am so pleased that he is headlining our programme at the Rose Theatre. We can't wait to welcome him – and his American audience – to the 70th year of the Fringe"
Boasting celebrity guests, discussions on (and dissections of) current events, and favourite acts from across the full festival, each edition of The Craig Ferguson Show will also be broadcast live to the United States on Sirius XM Satellite Radio.
Craig Ferguson is renowned for his tenures on both The Drew Carey Show (1996-2004) and The Late Late Show with Craig Ferguson (2005-2014). He is the host of both Celebrity Name Game, for which he has won two Daytime Emmy Awards, and Join or Die with Craig Ferguson, and has extensive credits across film, television, stage, and radio. Ferguson was typically ebullient about working in Edinburgh again.
"I finally made enough money in America so I can afford to work for Karen again. As long it's only two weeks and she lets me sell snacks at intermission"
The Rose Theatre was founded by esteemed ballet dancer and director Peter Schaufuss. The completed venue will bring four brand-new, mid-scale theatre spaces to Edinburgh's city centre, with its Main Theatre space housing 300 seats. Of the partnership with Gilded Balloon, Mr Schaufuss said:
"I am delighted with this development at Rose Theatre Edinburgh and am looking forward to developing a successful partnership with Gilded Balloon"
The full programme, including The Craig Ferguson Show, will go on sale on 11th May.
Tickets for some Gilded Balloon acts, listed below, are on sale now
| | |
| --- | --- |
| LUISA OMIELAN: The Interlude – Politics for Bitches / What Would Mary Magdalene Do?! | SCOTT AGNEW: Spunk on Our Lady's Face |
| MY DAD WROTE A PORNO | PUPPETRY OF THE PENIS |
| TOM STADE: I Swear | F***ING MEN |
| SHAZIA MIRZA: With Love from St. Tropez | MATT RICHARDSON: Slash |
| SCOTT GIBSON: Like Father, Like Son | AUNTY DONNA: BIG BOYS |
| ROBIN INCE'S Rorschach Test | GEORGE EGG: DIY Chef |
| MARK THOMPSON's Spectacular Science Show | RAY BRADSHAW: Deaf Comedy Fan |
| MARK FORWARD Wins All the Awards | THE LULU SHOW |
| LAUREN BOK: Is That a Burrito in Your Pocket or Are You Just Happy You Have a Burrito? | WILL SEAWARD's Spooky Midnight Ghost Stories III  |
| BEN HART: Belief | SWEENEY TODD |
| LES MISÉRABLES | BRAVE MACBETH |
| MICHAEL REDMOND: I Wrote a Joke in 1987 | STUART MACONIE: Jarrow Road to the Deep South |