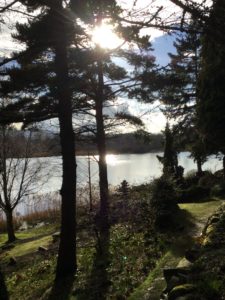 'Nature's peace will flow into you as sunshine flows into trees….. while cares will drop off like autumn leaves' (John Muir)
The breeze is blowing through the reeds, ducks quack, swans trumpet, a heron slowly rises from a bank, spreading its wings wide. The sun is shining on the water.
And yet we are just a short bus ride from Edinburgh city centre, at the edge of Duddingston Loch (part of the Scottish Wildlife Trust's Bawsinch and Duddingston nature reserve) on a perfect Sunday afternoon in March. To the right Arthur's Seat rises up, its steep sides covered in yellow gorse, but the garden in which we are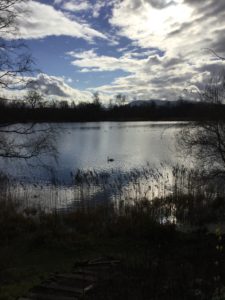 standing is no ancient monument.
In the 1960s this was a derelict patch of glebe land belonging to Duddingston Kirk. It had been used for grazing animals but had never previously been cultivated owing to its steep slope and rocky ground. Then in 1963 along came Drs Nancy and Andrew Neil. The Neils – both GPs working in Meadowbank – had had an allotment in Morningside, but had lost it to developers. They wanted somewhere else to garden; the kirk had no use for the land, and in a match made in horticultural heaven, Dr Neil's Garden was born.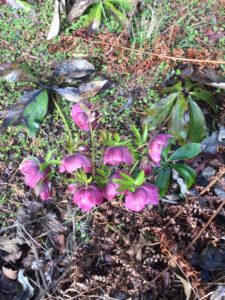 The Neils worked almost on their own in the garden until their deaths in 2005. They had a great interest in plants, and spent their holidays collecting new ones in Southern Europe – they even brought back young trees from California.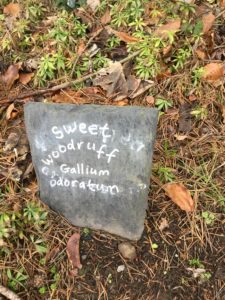 The garden they created is a beautiful, peaceful place filled with birdsong and the cries of wildfowl on the loch.
Hedges divide the slope into small 'rooms'; you can sit and watch the birds or wander among the trees and flowers. From rhododendrons to redwoods, fir trees to fritillaries, the garden is full of life and beauty. Read your book, draw a picture; no-one will bother you here.
The Neils encouraged their medical patients to come and work with them in the garden; after the doctors' deaths, volunteers developed a special Physic Garden featuring medicinal plants and herbs to commemorate their lives as physician and gardeners.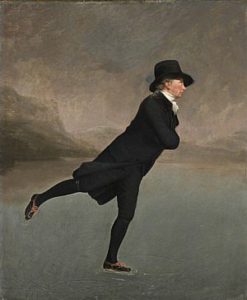 In modern times the loch is unlikely to freeze over, but in the 18th and 19th centuries it was a major curling venue (though as skating became more popular, the curlers had a harder time gaining access to the ice. Raeburn's famous painting The Skating Minister depicts the Reverend Robert Walker gliding across the loch). Thomson's Tower, a two story building in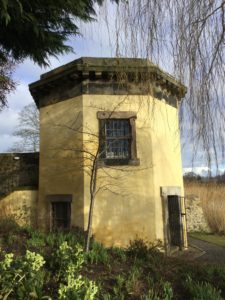 one corner of the garden, was designed by William Henry Playfair, and built in 1825 for the Duddingston Curling Society to store its stones. The cosy upstairs room – complete with its own fireplace – was not only a meeting place for the curlers; it also provided a sanctuary for the then minister of the kirk, John Thomson.
Thomson was an artist as well as a clergyman. In his youth he had been taught by Allan Ramsay's pupil, Alexander Nasmyth (designer of the temple at St Bernard's Well, Stockbridge). Thomson however – as befitted a good clergyman of the time – had nine of his own children plus four stepchildren; the manse was a busy place. Hiding away in the tower, Thomson could paint away to his heart's content, though what his wife thought of this arrangement is unrecorded.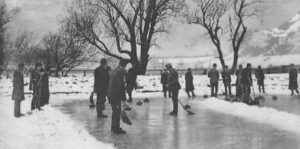 The ground floor of the tower is now a Museum of Curling and well worth a visit – it has lots of memorabilia and has attracted donations of curling stones from all over the world. Meanwhile the upper room houses an exhibition about the garden and Duddingston Village. The tower is open to visitors in the summer months, and it is also possible to hire the upstairs room, with its fabulous views of the loch, for small art shows and meetings.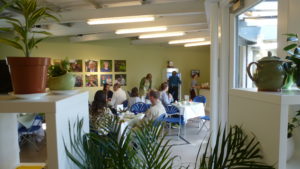 After a walk (or even before one…) the mind turns naturally to food, but there's no need to leave the garden to find sustenance. The Garden Room (Wednesday to Sunday, summer only – it's open now) can offer you tea, coffee and lots of lovely cakes, plus soup at lunchtimes. It's at the top of the garden and is run by friendly volunteers from Duddingston Kirk.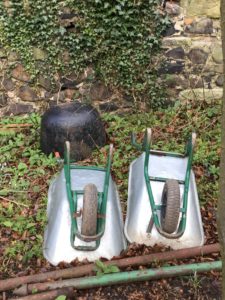 And if, after your visit, you're loath to leave, guess what? You can stay! No, you can't pitch your tent on the sloping shores, but you can volunteer to help in the garden. There are sessions every Tuesday and Friday at which you can have a go at watering, weeding, garden maintenance and repairs, meet new people and get some exercise and fresh air. You can come for the whole day or just a morning or afternoon, and you don't need lots of experience either;
'Whatever your reason, level of experience, age or ability, we will endeavour to make you feel welcome, to work to your strengths, to teach and encourage your progress with practicality and kindness.'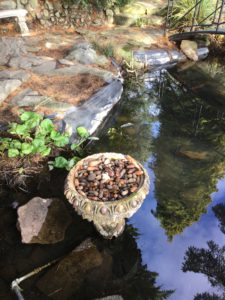 If you are interested contact the Gardener via info@drneilsgarden.co.uk.
So next time you need a breather from city life, pay a visit to Dr Neil's Garden. Entry is free, though donations are very much appreciated. You can take Lothian Buses no. 42 from Hanover Street or Stockbridge, or you can walk to the garden from the entrance to Holyrood Park behind the University of Edinburgh's Pollock Halls – the road follows the edge of the loch to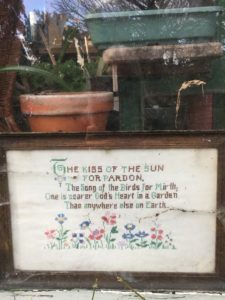 Duddingston Village.
If you're going by car there is a car park adjacent to Duddingston Kirk Hall on Duddingston Road West. Please note that dogs are not allowed in the garden.
For more information visit http://www.drneilsgarden.co.uk/.