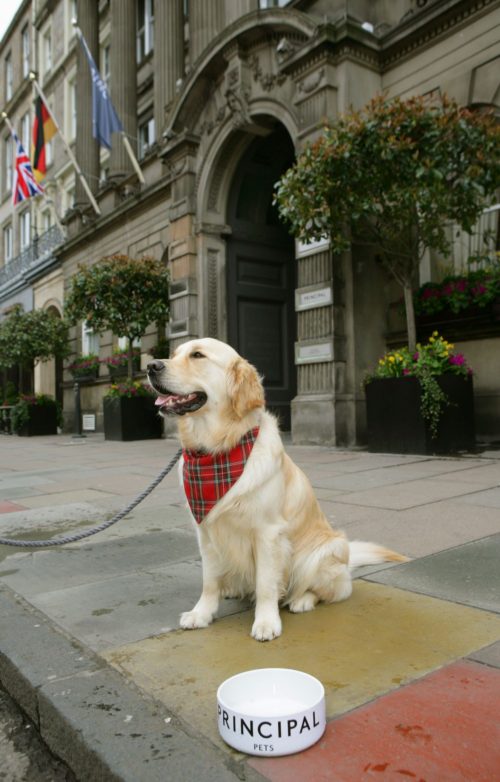 Although the Edinburgh Principal has a new name it is still known to locals as 'The George".
When the hotel wanted to promote itself as pet-friendly they asked Golden George the VisitScotland Ambassadog to come along and try out their facilities. The hotel manager Andreas Maszczyk was pleased to welcome him and offer the Very Important Pooch some of their best service.
They rolled out the red carpet for George to wander into the four star hotel wearing his tartan bandana to see their personally labelled dog beds, ceramic pet bowls and a doggy hamper in rooms which have pets visiting. These contain chews and handmade gourmet treats as well as doggy bags of a different kind!
Andreas Maszczyk, General Manager said: "It was great to welcome Scotland's Ambassadog to Principal Edinburgh. He certainly received a warm welcome from our staff and guests alike and was incredibly dashing in his tartan bandana.
"We know that dogs are an important part of the family and this is reflected in the experience they will receive at Principal Edinburgh.
"We believe we offer the best experience for guests visiting Edinburgh and this is something that should be extended to pets as well.
"VisitScotland's Ambassadog was a real hit at Principal Edinburgh and we look forward to welcoming him and his owners back to the hotel very soon."
George, who turns two next month and has been VisitScotland's Ambassadog since 2016, lives with twin sisters Emma & Victoria Rae, 23, in Glasgow.
One of Edinburgh's best known hotels, The Principal Edinburgh has been an Edinburgh landmark for over 130 years. Formerly The George Hotel, Principal Edinburgh recently opened its doors to guests following an extensive multi-million pound renovation and continues to offer a deluxe hotel experience, perfectly situated in the thriving New Town of the city.
For more information on Principal Edinburgh visit www.phcompany.com/principal/edinburgh-george-street or call 0131 225 1251
To keep up to date on George the Ambassadog's adventures you can click here