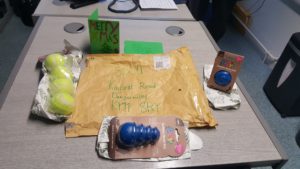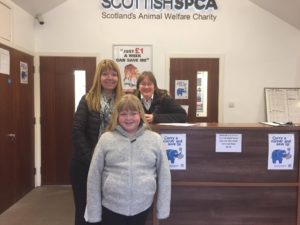 The Scottish SPCA have found Zoe Raynor following a national hunt after the delivery of her generous Christmas gift.
Scotland's Animal Welfare Charity invited Zoe Raynor to their centre in Edinburgh to visit the animals and have a tour after she sent a package of gifts and toys to the Dunfermline HQ along with a lovely card for a dog in their care.
Animal Rescue and Rehoming Centre Superintendent Sharon Comrie said, "Zoe sent us a handmade card along with some super treats and we just had to say thanks to her in person!"
Edinburgh Centre Manager Diane Aitchison said, "Zoe had a fantastic time at the centre on Sunday. Her favourite animal is a dog so we made sure she had a chance to see them.
"We had a mini question and answer session with our animal care assistant Emma where Zoe asked a lot of questions and was very curious about horses as she's found a new love for horse riding recently!
"She got to have a cuddle with Diamond, one of our cats in the centre and we made sure she got some goodies to take home as well."
Anyone interested in supporting the Scottish SPCA should visit their website at: www.scottishspca.org.
Photos by Scottish SPCA