Fiery Scots seal important victory at Broadwood Stadium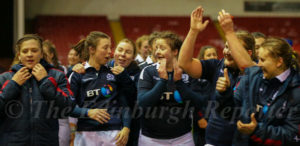 On a cold February night, the Scots beat a tough Welsh side and secured their first victory since 2010 at Broadwood Stadium. The hard work and efforts of coach Shade Munro and the team led to a well-deserved victory after a remarkable come-back. Despite conceding 14 points in the opening quarter of the first half the signs were there that an elusive victory was within the teams grasp after a ferocious response by the Dark Blues.  Although the Six Nation's opener ended narrowly in defeat against a historically strong Irish team, another strong performance against a confident Welsh team merited an elusive victory to kick start their Six Nations campaign.
A strong showing from the player of the match – Chloe Rollie who made vital yards in key moments of the game and Edinburgh University playmaker Sarah Law who was instrumental in their victory at Broadwood stadium.
After going two tries down in the opening quarter they regrouped and centre Lisa Thomson pulled a try back just before the interval. In the second half winger Rhona Lloyd  scored a well worked try and on the 77th minute Law kicked Scotland into the lead for the first time in the game to clinch it 15-14 for the Scots.
Phillips scored Wales opener after being camped in the Scottish 22 for some time and Wales continued to show dominance in possession as they followed this up with a penalty try on the 34th minute for a collapsing scrum. Scotland hit back just before the break as Lisa Thompson pierced through the Welsh defensive line and scored a well worked try ending the first half on a high.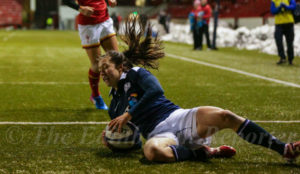 With a renewed sense of pride after scoring at the very end of the first half Scotland stormed into the second half with a dominant performance that kept Wales on the back foot for long periods of the game.
Scotland's second try came on the 61st minute after a sustained period of possession, a superb hand off by the Scottish number 8 Jade Konkel on her opposite number Sioned Harries opened up the Welsh defence and a well-timed offload to Sarah Law was followed by a quick pass to winger Rhona Lloyd who dived over in the corner for a sumptuous and well worked try.
The game was poised for an exciting finale and a late penalty gave Scotland a chance to take the lead on the 77th minute, Sarah Law delivered with aplomb and sent the crowd into ecstatic applause.
Reflecting on the game in her post match interview Law said: "We played ourselves into that position, we played with intent and that was the chat at half time. We kept our composure in the second half, the intent and the aggression, we knew we could, we would get those kind of opportunities, it was just about taking those opportunities as they were presented."
Law added: "Going into half time that's what we needed, to put them under pressure going into the half, to get that just before half time was a real boost, a reward for all our hard work in the first half. We knew if we could play like that – if we came out and played like that straight away then we would come away with the win"
Coach Shane Munro was visibly delighted and commended the team for an excellent performance. He said: "In the past, against Ireland, we've actually learned from that as well, it was great when you see it, even after the first couple of scores in the first half, we were 14-7 down, but the determination at half time and the chat from all the players, coaches, was pretty single minded in their determination to win this game. And we managed to do that which is great."
The Scotland's Women's coach added: "Hard work, belief in what we're doing, a good game plan, a good bunch of players, good team spirit, if you've got all those things –you are going to go places. I'm really pleased for them, I'm really proud of them, they performed extremely well and they deserve it."