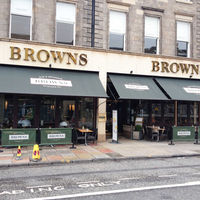 With Valentine's Day on Tuesday – and the 14th February also being the occasion of our second wedding anniversary – I took the delightful Mrs Smith out for a meal on Friday evening. True, this was four days before the big occasion but I reckoned it might be a bit more intimate (not to say a good deal cheaper) than some of the 'special offers' doing the rounds for next week.
We headed to Browns Brasserie & Bar in the heart of Edinburgh in the capital city's George Street. The bar's website says it is a lively venue offering seasonal Scottish dishes, European cuisine and a variety of colourful cocktails. It wasn't quite lively when we arrived at 6.00pm but my immediate impression when I entered the restaurant was this seemed a classy establishment. Traditional décor, friendly staff and an intimate atmosphere.
The service was excellent. An attentive young girl took our order with a warmth that can be sadly lacking at other eateries. My prawn cocktail starter (very 1970s) was decent although Browns clearly haven't heard the news story this week about a shortage of lettuces….
I opted for the Browns classic burger with Irish cheddar and smoked bacon and fries (and plenty of lettuce…) whilst Mrs Smith chose the half roast chicken with lemon, garlic & thyme and a bordelaise sauce. She was pleased with her meal although I thought the burger was a tad on the greasy side for my liking and the fries – chips, as I prefer to call them – were a little hard as if they had been cooked a wee bit too long.
The dessert though, was splendid. The delightful young waitress had recommended the apple, cherry & walnut crumble but, tempted though I was, my salted caramel profiteroles went down a treat and Mrs Smith certainly enjoyed her banoffee pie.
Drink wise, Browns bar offers a wide range of wines from around the world, an array of spirits and what has become known as 'mocktails' (it might be my age but I can't quite grasp the concept of non-alcoholic cocktails) However, being a chap renowned for moderation (is this right? – Ed) I opted for a pint of Edinburgh's very own Innis & Gunn. Mrs Smith was even more moderate – she chose a warming pot of loose leaf tea.
For families, Browns also has a children's menu with a variety of tempting treats for the little blighters darlings.
Overall, it was a pleasant experience at Browns Brasserie & Bar. The service was excellent and that means a lot to someone like me who prefers to be waited on with a bit of charm. This certainly oozed from the young girl who served us. Perhaps the food on offer is a work in progress but it's certainly somewhere I'd be happy to return to.
And if you're looking for somewhere with a bit of style and ambience to take your loved one this Valentine's Day then you could do worse than head to Browns Brasserie & Bar.
Edinburgh Reporter rating ****