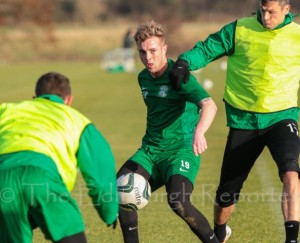 Danny Handling got his first taste of competitive football since July during yesterday's Development game against St Mirren.
The midfielder picked up an injury ahead of the UEFA Europa League second leg tie against Brondby, which left him sidelined for the first half of the campaign.
The 22-year-old whose career has been plagued by injuries said that he felt that everything went well from his perspective.
Speaking to Hibernian Media, Handling  said: "I'm delighted to have got some minutes under my belt. I just felt that my fitness was a key issue for me to work on, but I felt fine, my legs were a bit heavy, because I had the tough training sessions on Monday and Tuesday. Apart from that, everything went well.
"I said to Craney at half-time that I could have played 90 minutes, and I was happy to, but the staff noticed that I was getting leggy because it was my first game back. That's what happens after a while out, but I'm delighted with how it went.
"The aim is to get back into the first-team and get back into the gaffer's plans – but it is one step at a time. Playing against St Mirren is the first step of hopefully a few, before I get back involved again.
"I'll take each game with the Development Squad that I play as it comes and see how I get on, but after today, I'm just happy to be back playing."
Photo by John Preece