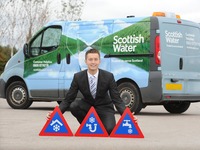 Scottish Water has a simple three step plan for you this winter to protect your pipes and keep water running smoothly.
They advise you to heat, insulate and protect your property whether old or new to ensure that you prevent frozen or burst pipes when temperatures dip.
Scottish Water's winter campaign is being supported by an information leaflet (available to download at this link www.scottishwater.co.uk/winter) that provides important and helpful guidance on what steps to take to help prevent a frozen or burst pipe, how to locate a stop valve, what to do in an emergency and how Scottish Water can help.
If the worst happens then there is some advice in this film here
The key advice in Scottish Water's winter code is:
Heat: Warmth offers the best protection against frozen pipes, so leave your heating on a low setting, or set it to come on a couple of times a day. If you are going away, ensure someone can visit regularly to check for any problems. If the property is vacant over winter, turn off the water supply and drain the system.
Insulate: Ensure your water tank is fitted with an insulation jacket or wrapped with suitable insulation material. Water pipes, tanks or toilet cisterns in unheated outbuildings or exposed places should also be insulated. If not in use over winter, have them drained.
Protect: Dripping water increases the risk of freezing, so repair any leaks at taps or valves as soon as possible. Also reduce draughts, which can cause frozen pipework, by fitting draught excluders on doors and windows.