Dad's Rock is an Edinburgh charity run by Barry, David and Tom. They are all dads themselves and they have put together this bumper list of things to do in Edinburgh with children of various ages. This is not intended for holidays particularly as all of these places are open all year round, but it is a good list for any of you visiting the city with children!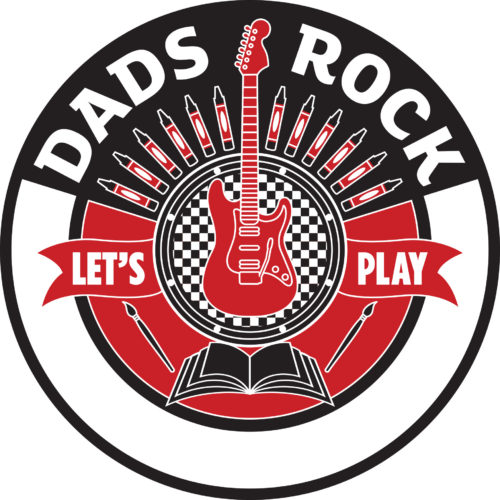 Mainly these activities are free…..and yes there are some duplications in each list but this helps to see them from a different point of view.
This is Barry's list of things to do in Edinburgh
Portobello beach
I was visiting my mother in Newcastle with my 3 year old daughter, I suggested we go to the beach because it was such a nice sunny day. To my amazement she said 'What can you do there?'. What? Sandcastles, drawing massive cartoon characters in the sand, throwing stones in the sea, splashing around in the sea, playing with balls/hoops/frisbee…..Along the prom it is brilliant for learning to ride a bike or scooter, balance walking along the sea wall, jumping onto the sand. The beach at Portobello has so much to do…..and there are two play parks too. Even when the weather is bad a beach is still a load of fun if you have your hat and coat.
See more here: Portie
Leith Links
We live right next to Leith Links. One Sunday we were in the play park not long after 7am, thankfully that is not the norm, but having a park so close to home is brilliant. Yes there is the play park but there is also wide open space which is great for playing with balls/hoops/frisbee and just running around and jumping about. There is an all-weather cricket pitch which is an almost endless source of games for us. My daughter is at the stage of wanting to invent her own games, well she is always telling me to 'do this, no like this' so I have to copy her, and the cricket pitch is the place for that.
Tucked away at the far end is the orchard, a funny little area with the feel of a walled garden. It is like having your own garden. Lots of little trees to run around, and also a good spot for seeing birds up close….you just have to learn how to keep still and quiet for a while.
See more here: Leith Links
Victoria Park
Not exactly on our doorstep, so this is a treat when we have already been somewhere else in the car. It is such a good play park with a fab variety of slides and things to clamber around on. There is always plenty of other kids to play with there too without it being crowded.  The rest of the park is really nice too, for a picnic or general run around on a nice day.
See more here: Victoria Park
The National Museum of Scotland
On a damp dull day the Museum is a splash of light and colour. My daughter loves animals so the 'animal hall' is just the job for half an hour or so, then there is the kids zone up on the third floor with the geology sand pit and other interactive stuff, and finally the funny mirror room is a smash hit too, with its musical floor pads, puzzles and costumes. One of her early words was 'motorbike', no idea how that came about. There is a lovely old motorbike hanging on the wall in the main hall.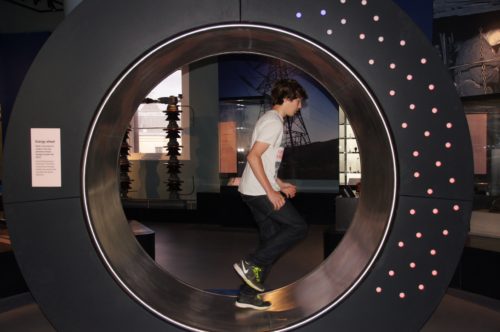 See more here: Museum
Arthur's Seat – Royal Park
When I first came to Edinburgh I was amazed by Arthur's seat. Every city needs to have a half size mountain. Now I find that we love to go to the less well used parts of the park, where there are still great views, blasts of wind and little tracks running all over the hillside. It is a top place for chasing each other around. So bring some snacks and a bunch of pals.
See more here: Arthur's Seat
Restalrig old railway path
When my daughter was very little I would take her out in her pram around the Restalrig railway path. It is a nice calm, tranquil place without traffic or noise. At the end of the summer it is also good for picking blackberries which we like to blend together with ice cream and yoghurt to make a lovely treat.
Being away from any traffic the old railway tracks around Edinburgh are great safe places for learning to ride a bike or scooter. Here is a link to some ideas for old lines around Edinburgh:
See more here: Railway path
Pirniefield play park
Tucked away behind some houses and just at the top of the stairs leading up from Restalrig railway path is 'The Secret Play park'. It is a tiny wee play park that we very often have had completely to ourselves. Early on I made a video with my phone of her playing on the slide, and watching that when we got home became a big part of the fun. So making videos there is an essential activity. We now have hours and hours of footage playing there.
I'm not going to tell you where it is, it is a secret.
Water of Leith
It was Granny who started to take her down to the Water of Leith when she was still very young. There is a fabulous if slightly scary video clip of a greedy swan snatching some bread from my daughters hand. It always makes me thing of the often recited "a swan can break a mans arm….". Anyway. The pathways along the Water of Leith are great for scooters and bikes, chasing squirrels, and pigeons any time of year. In the autumn the fallen leaves build up in vast banks, and I can not resist ploughing through them.
Leith Library
There should be libraries for all sorts of things not just books……but I won't get started on that. Leith library is our closest and it is far more than just a place to borrow free books, if that is not enough! It is also a shelter from the storm, a change of scenery when you need to get out of the house, where there are toys, and it is a place to meet up with friends. If you need some ideas there are CDs and a load of other resources. All libraries host Bookbug sessions…..oh yeah and Dads Rock also do some of those.
For info on Edinburgh Libraries: http://www.edinburgh.gov.uk/libraries/
For the Scottish book trust: http://www.scottishbooktrust.com/
For bookbug: http://www.scottishbooktrust.com/bookbug
Gustav's house
Gustav is a small grey soft toy dog. His house is made by pushing the furniture around, piling up cushions, draping blankets over the top to make dens. It is very easily made, pulled down, changed, added to, loaded up with toys and becomes the centre of many games. It is a completely free place to go to. You will find that he has a house near you too. I hope to meet you there soon.
For ideas of things to do in Gustav's house: play talk read
*****************************************************************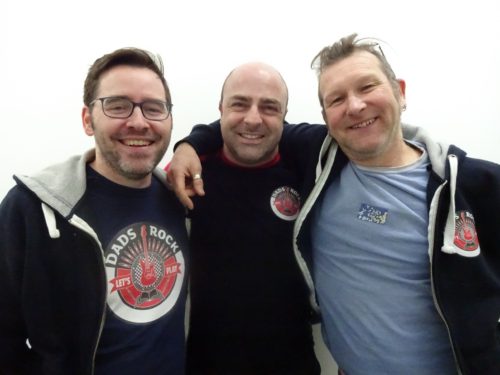 This is David's list.
My top ten things to do with your kids has been a team effort, my daughter and I worked on this together.
1) Time Twisters
My daughter loves this place as she can climb really high and see everyone below. She loves to shout for me and then hide. I've yet to attempt to even climb over the hurdles and hurtle through the jungle of hanging obstructions, but there again, it's not for adults!!
We usually go either first thing in the day or mid-afternoon (straight after school) when it's a wee bit quieter. On a great bus route and has free parking. You can read more about it here: Time Twisters
2) WHEC Swimming Pool
The pool has been in Wester Hailes for as long as I can remember and of course is attached to the side of Wester Hailes Education Centre. We used to love the small baby/splash pool, but now "we're bigger", I was told that I can now go to the "big" pool.
My daughter usually goes with her granddad on a Saturday afternoon, where it can be a "hit or a miss" with how busy it can be. Depending on time of year/weather/school holidays. On a bus route and has free parking.  The website for the pool is: Pool
3) Edinburgh Zoo
Well, if you're needing a workout, this is the place to go. Although, as a parent I find it quite expensive (yearly passes are available to purchase for both the Zoo as well as Highland Wildlife Park near Aviemore), its still a great day out for the family. We always take a picnic and eat it at the top of the zoo hill.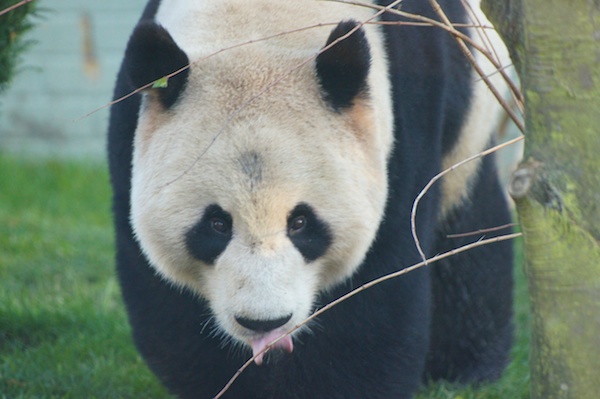 The views are awesome and by the time you have reached the top, said hi to the zebras and kangaroos, you'll all be ready for some refreshments.
The zoo is on a main thoroughfare route in and out of Edinburgh and parking costs £4.00 per vehicle. Changing facilities are dotted all over the site.  The Zoo's website: Zoo
4) Vogrie Park
Vogrie Park, situated just outside Pathhead, is awesome. So many things to do on site as well as, have a wee ride on the miniature steam train which runs on Sundays (this is run by volunteers, so may not run every Sunday). Remember and pack your wellies. A mistake that I've made many a time and had to walk round the site with squelching footwear.
If you are planning an educational trip, the Midlothian Countryside Rangers are on hand to help you out with pond dipping & fire building. This has to be booked prior to your visit.
The park is only 2 miles from the A68 and parking is a donation of £1.00 per vehicle. There are changing facilities on site in the big house.  Vogrie's website: Park!
5) Falkirk Wheel
My daughter loved to "zorb" on the water as well as take a ride on the "boat lift". An amazing water/flying experience. Parking is free and there is a LOT of it. There is an onsite cafe, which isn't too expensive as well as baby changing on site. Wellies are not required for this trip!
The wheel's website: Big Wheel
6) Saughton Park
This park is very local to us and although is on a main bus route in the west of the city, there are many cycle paths that lead to and pass the park. For me, as an adult, recently just learning the history of the park has been fascinating, especially about their rose gardens. Hearing the work of the Friends of Saughton Park who work tirelessly (voluntarily) to ensure their part of the park looks great all year round.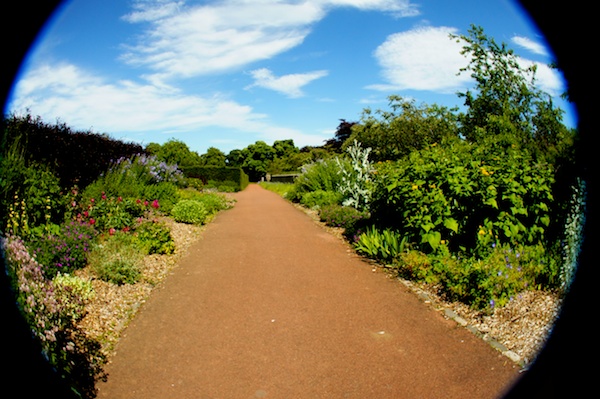 The gardens are beautiful and the park is large with the feeling of having a lot of space while still feeling secure. My daughter loves the "flying fox". I've lost count the amount of times I've heard "just one more time daddy" Free parking on site and bus services pass the site throughout the day.  You can see more details here: Rose
7) National Museum of Scotland
This museum is the only museum where I have my arm pulled as soon as we walk in to the building. Dinosaurs, gyro-copters (which even sounds like a dinosaur), period costumes, space!!…..WOW, the list is endless. Not to mention the Millennium clock, which, every time I have a look at it, I spot something that I never spotted on my previous visits.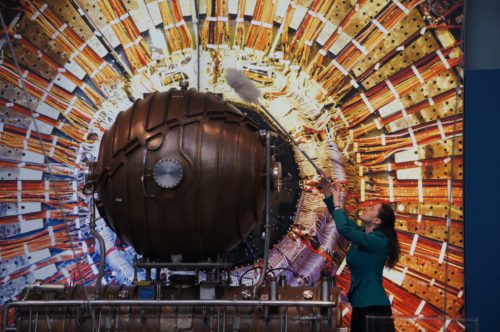 It's hard not to run about in the building as it's so big and there's so much to see.
Due to the location of the museum, parking can be quite tricky as well as expensive, so we usually take a bus or tram and then have a wee walk to the museum. We always take a packed lunch and sit and watch the world going by from the 1st floor eating space.
Free entry, but we always give a donation when we leave in the perspex buckets based at the exit doors. Baby changing and toilets dotted around the venue and are always inspected and clean.  Their website is: Museum
8) Water of Leith Visitor Centre
The Water of Leith Visitor Centre is situated in a renovated schoolhouse by the Water of Leith. Its location under the viaduct at Longstone. There is a small free exhibition as well as a cafe. We use the Visitor Centre as a starting point on our treks. I'd suggest wearing wellies on damp days, as even on the driest of days, the walkway can still be a bit on the damp side.  The centre's website is: Water
9) Botanical Garden and Inverleith Park
We can spend almost a full day at the Botanics. From peering into the windows of the newly completed Botanic Cottage, to running about the site playing chase. There are a few onsite eateries, we tend to bring a picnic.
The squirrels are almost superhuman, and are very happy to come right up to you and say Hi.  The Botanic's website is: Green
10) Portobello Beach
Ah, Edinburgh's very own Daytona Beach. I have great memories as a child walking along the prom, playing in the sand, to pacing up and down the prom with my wife when we were expecting our first child as well as making memories with my children.
I've experienced the "wrath" of Portobello beach on a winter's day walking along the prom for a "brisk" walk as well as sharing an ice cream with my family on a lovely summer's day. You can read more about the beach here: Sand
*****************************************************************
This is Thomas' list!
My son is now 8 years old and over the years we have been to lots of places in and around Edinburgh. I thought it would be useful to put down a wee list of some of the best free places.  My son helped with this list!  Have a wee read, and please tell me about your top ten..
Colinton Dell
I just know it as the Dell, and spent much time there myself when I was young.  The entrance to the path/walkway is at Longstone, across the road from The Water of Leith visitor centre which is free and well worth a visit too!
The Dell path is mostly covered by trees and takes you along to Colinton village.  I believe you can walk further, but we've not done that yet!
The path winds along the water of Leith, so you are always close to the water.  We've seen tons of wildlife there and had many a sword fight! There's some cool little buildings to discover along the way, and at times the path opens up into a field or two.  In Colinton there is also a fab play park, called Spylaw park, you can see the address of that here: Spylaw park
You can read more about the Dell here: Colinton Dell
There's good bus stops nearby and some on street parking.  There's also shops nearby for snack.  I would say it's a bit tricky to take a buggy along the path, as there's a few steps now and again, and the good thing is that you don't need to go for too long a walk if you just want a wee adventure.  You can spend anything from 30mins – 2 hours in the Dell.  There's no toilets in the Dell, but the visitors centre does have toilets.
Corstorphine Hill
We call it 'Cheesy Hill' in our house, as my son decided his toy mouse, cheesy lived there! It's a great place to climb and has a beautiful walled garden as well, you can see details about the walled garden here: Garden  Check out the cool bench in the Garden and get your wee one to name all the animals on it.
There is a good path up the hill and when up the top you get some great views of the city, there is also Corstorphine Tower, which is shut for most of the year, but you can get in by checking on the Friend's of Corstorphine hill website: Friends
I would say that the steps inside the tower are only suitable of older children, say of about 4 years upwards.
We normally drive a little way towards Corstorphine Hill and then park on the street.  The good thing of course about walking up, is that you get to run back down, or roll down!  It's taken us about 1 hr to go up and down, depending on how fast those little legs will go.  You would need to have a proper big wheeled buggy to take it up Corstorphine hill.  It would be a good work out for you too!  There's no toilets here.
Cramond Beach 
This is the closest beach to our house, and we love the fact that the promenade is so flat, wide and long! great for scooters or balance bikes.
Parking can be tough, you can get the number 41 bus. To be honest we normally park at the Silverknowes side of the beach and then walk along to the ice cream van!
The beach is great as there is also some open grassy areas as well as the prom and the beach itself.  Of course there is also Cramond Island, which you can walk over to.
Remember and keep an eye on the tide times though! You can see more about Cramond and the tide times here: RNLI
Cramond does get busy, especially with cyclists and dog walkers.  It's a great place to go even with a very young baby as you can walk along the prom with the buggy.  There are a couple of cafés now, at the Cramond end and also the Boardwalk Beach Club, click here for more details: Beach Club  We've spent between 30mins – 2 hours at the beach.  Oh it's also great for kites, if the weather is right.  There are public toilets close to the ice cream van, at the Cramond end.
Drumbrae Library
It's a lovely new library, we love to go and have a look through tons of books and then narrow down our choices! There's lots of space and things going on for kids.  They have a wee car park, and all the usual activities.
You can find out more here: Library  There's good bus links to the library as well.  There are toilets.
Hailes Quarry Park
A lot of love has gone into the Quarry park in the last few years, but the great thing is that it's still got a vast open space if you just want to run around! it's close to the Canal so you can pop over and check that out too.  There's good paths to walk round, suitable for buggies as well.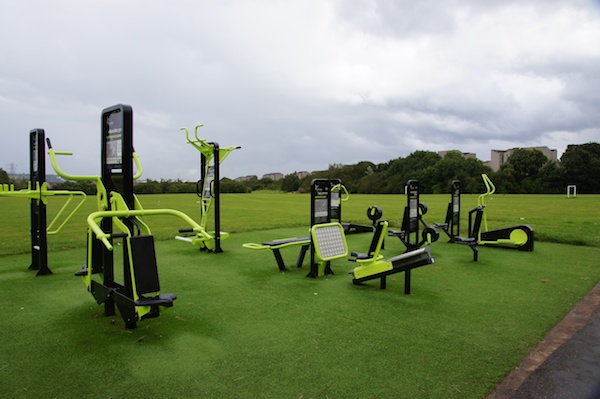 There's a good wee play park, climbing wall, and nature trail to discover.  My son now loves playing hide and seek there with his Granny!
There's good bus links and on street parking.  You'd need to go to Longstone or Wester Hailes for shops so best to take snack.  We've stayed there for approx 30mins-1.5 hours. There are no toilets here.  You can see more about the park here: Quarry
Lauriston Castle
We love Lauriston Castle, and have never even been inside the castle itself, the grounds are amazing.  The paths are suitable for buggies.  There are some awesome views over to Fife, and some great big trees to find.  There's a lovely wee pond and also the Japanese Garden which sometimes we just to go and then head home, as you can spend ages in the Japanese Garden!
You can read more about it here: Lauriston  There is parking in the grounds and also bus links.  You can spend anything from 30 mins – 2 hours there. Although the Castle is not always open, there are public toilets.  There are shops nearby in Davidson Mains.
Meadows Play Park
The biggest and busiest play park in Edinburgh! it is amazing, and lots of different areas and textures for the kids.  I love the swings, due to them having a range of different ones available, and who doesn't like a flying fox?
Good for buggies, and there are public toilets and even a wee cafe now!  You can see more about the park here: Meadows
Of course it's also set in the Meadows, which is a huge open grassy area, so great for running around, and good for scooters and bikes.  The Meadows is also a good place for kites, and there are shops nearby for snack.  There's good bus links, and on street parking, which depending on the time of day you may need to pay for.  You can spend from 1-2 hours here.
Saughton Park
A personal favourite of mine, again from going there as a child.  The play park is second only to the Meadows in my opinion! I would even say it's better as it can be quieter.
Over the coming years the whole park is being renovated so it's going to be even better! Once you're finished in the play park you can go for a walk around the rest of the park, there are great open spaces, places to play, and lots of hide and seek spaces.
You may know that Saughton park also has an awesome skate park for older kids.
You can see more about the park here: Parklife
There's good car parking and bus links.  There are public toilets in the winter garden.  You can spend anything from 1-2 hours here.
The Gallery of Modern Art
Galleries are great places for kids, remember kids can play anywhere, and everywhere is an adventure.  The front lawn of the Gallery is amazing, it's beautiful and provides the open space kids need.  Inside the building are some cool exhibits.  There's also a lovely cafe with some outdoor space around the back.
You can read more about the Gallery here: Gallery  Easy to get around with the buggy. There is parking, for a small fee.  There are good bus links.  There are toilets inside.   We've spent 30mins – 1.5 hours there.
The National Museum of Scotland
What can be said about the Museum on Chambers Street that's not already been said?
It's another of my real favourites, I've spent so many hours here over my life and love how it's constantly changing and opening up new spaces.  My son loves the room with the fish game, and discovery tree.  This room is on the fifth floor, you could spend days in the Museum and still not see everything!
It's great for running around and has now got some good lift access and nice big toilets.
There's great bus links and some on street parking you'll need to pay for, depending on the time of day, and day of the week.  There's so many places for snack or lunch around the Museum, and there's a cafe inside as well.  We quite often combine a trip to the Museum with a trip to The Meadows as well as they are so close to each other.
You can read more about the Museum here: Chambers St