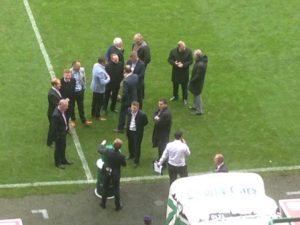 Several members of Hibs' Skol/League Cup winning team from 1991 paraded the trophy at half time yesterday to celebrate the 25th anniversary of that historic day.
Only months after defeating Wallace Mercer's takeover bid, Hibs reached the final of the League Cup, beating Walter Smith's Rangers on the way.
35,000 Hibs fans made the trip to Hampden Park with many more locked out of the stadium as Alex Miller's men overcame a strong Dunfermline Athletic side to win the club's first trophy in almost 20 years.
The players, including captain Murdo McLeod, Graeme Mitchell, Michael Weir, Brian Hamilton, Gordon Hunter, Pat McGinlay, Gareth Evans Joe Tortolano, and Keith Wright joined manager Alex Miller, coach Jimmy McLaughlan and Physio Stuart Collie  on the pitch and received a standing ovation from the supporters.
Keith Wright, who scored the vital second goal recalled that glorious day, telling the Edinburgh Reporter: " I remember coming out of the tunnel and seeing three quarters of the stadium full of Hibs' fans which gave us all a massive boost and made us determined not to let the supporters down.
"People say that we weren't at our best in the first half but Dunfermline were a decent team with plenty experienced players.
"We dominated the second half then when the wee man got the penalty Tam McIntyre was brilliant sending the keeper the wrong way.
"We were in control but at 1-0 anything can happen then near the end, Mickey sent the perfect through ball which left me one on one with Andy Rhodes.
"I normally didn't like too much time to think and as I was running toward goal I was thinking that if I score then there was no way back for Dunfermline. I managed to clip the ball over the keeper and it was a brilliant feeling seeing it go into the net.
"That was the highlight of my football career. I was only 26 at the time and I'll never forget the celebrations back in Edinburgh.
"The club had organised a function at the Dragonara Hotel, win or lose but first we travelled on an open topped bus from the Maybury to Easter Road. There were thousands on the streets and when we got to the stadium it was packed with cheering fans, five hours after the final whistle.
"We had a great night celebrating the victory but for me, my overriding emotion was one of relief, knowing that we hadn't let the Hibs' fans down."