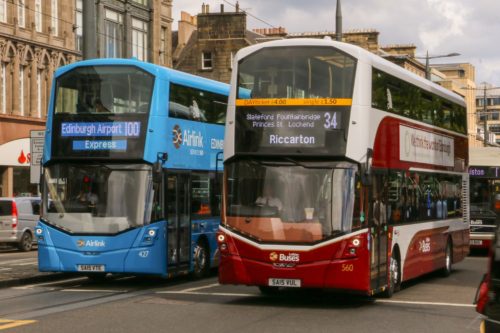 From 13 November there will be changes to the routes followed by services 39 and 40. Lothian Buses say that this has been approved by Midlothian and East Lothian Council, and it will mean that the Auchendinny service on route 40 will cease.
Nigel Serafini, Lothian Buses, Commercial Director said: "We appreciate that some customers will be disappointed that Lothian Buses will no longer serve Auchendinny, but unfortunately, the number of people making use of the service was too low to justify the operating costs associated with continuing this section of route.
"The changes that we have made to the running of our Services 39 and 40 will help to ensure that these routes are more reliable and commercially viable which is important for the many customers who depend on these cross-country links every day."
Midlothian Council will partly replace the Service 40 in Auchendinny by extending their 'Ring and Go' taxi service to 7-days per week. This offers a door-to-door service, which will continue to provide transport links for the small number of people who currently use the bus.
Councillor Derek Rosie, Midlothian Council Cabinet Member with responsibility for travel, commented: "The 'Ring and Go' service already operates in Auchendinny on a Sunday and this change will see it offered on weekdays and Saturdays as well. It will be welcome news to those who have previously relied on the Service 40 and I am pleased that Midlothian Council has been able to support this alternative transport link."
Changes in more detail:
Service 39 – Change to Timetable. The frequency of the service between Woodburn and Midlothian Community Hospital will be reduced to every 30 minutes, instead of the current 20 minutes. Buses to and from Gorebridge will continue to operate hourly. A revised timetable is introduced which will include an earlier morning journey from Woodburn on Mondays to Fridays and an additional morning journey from Gorebridge.
Service 40 – Change to Route & Timetable. Due to very low levels of passenger demand, Auchendinny will no longer be served, with buses operating direct via Milton Bridge in both directions. In Dalkeith buses will operate direct via the High Street in both directions. This means that on journeys towards Musselburgh, Buccleuch Street and South Street are no longer served, with the main bus stop in Dalkeith Town Centre located outside Morrisons. A revised timetable will be introduced.