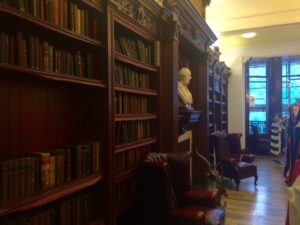 On Thursday 28th July many residents and tourists to the city explored the secret sites, hidden mysteries and curious corners of our wonderful city, with the aid of 'Secret Edinburgh, an Unusual Guide' author, Hannah Robinson. Organised by Edinburgh World Heritage, the Georgian grandeur of the New Town was opened up to the public, revelling in its plentiful surprises.
Beginning with the Beachcomber poem, visually installed in Rose Street, including an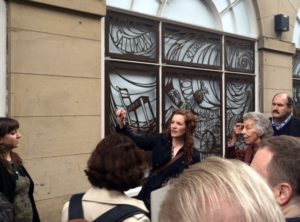 introduction by the artist, Astrid Jaekel, this delightful tour gave us more than just a brief overview. Followed by the Gladstone library in Debenhams and the Narnia-esque changing rooms of The White Stuff, we then found ourselves amidst women's clothing departments. However, we certainly walked away with more than a chemise, as these wondrous spots will resonate for quite some time.
The beautiful evening concluded at the showrooms of Bonhams on Queen Street with a drinks reception. For those keen on knowing more about the nuances and quirks of the city, keep an eye out for more from Hannah and the Edinburgh World Heritage. It looks like they are doing a Stockbridge one though not yet sure of the dates. Hannah is also doing a Secret Unusual event at Cockenzie House on August 21st (where the lava grotto is) and one at Liberton Tower for Doors Open on September 23rd. Definitely a tour for the inquisitive.