Moulin Rouge Dancers Launch first Toulouse-Lautrec Show at the National Galleries of Scotland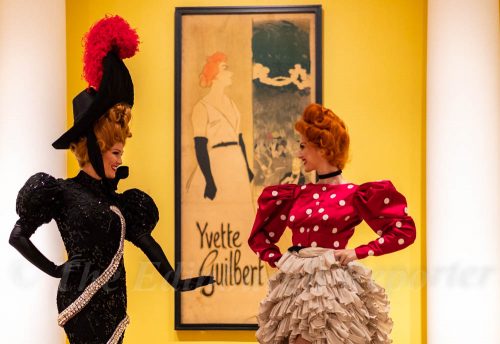 Two dancers from the Moulin Rouge in Paris – Mathilde Tutiaux and Lucy Monaghan – paid a very special visit to Edinburgh to help launch Pin-Ups: Toulouse Lautrec and The Art of Celebrity, the National Galleries of Scotland's first major exhibition to explore the work of Henri de Toulouse-Lautrec (1864-1901), one of the most innovative and popular French artists of the era known as the 'Belle Époque'.
The Moulin Rouge, the most famous cabaret in the world, was instrumental in Toulouse-Lautrec's career, commissioning the artist to design a poster artist nearly 130 years ago which instantly propelled him into the spotlight and placed both venue and young artist at the epicentre of the birth of printmaking.
The vibrant, bohemian atmosphere of Paris at the end of the 19th century will take centre stage with the show which focuses on extraordinary posters that heralded a revolution in design and the birth of modern celebrity culture. Lautrec was an outstanding painter, printmaker and caricaturist renowned above all for his immersion in the theatrical and celebrity culture of Paris. This exhibition will bring together around 75 posters, prints, paintings and drawings by Lautrec and contemporaries such as Pierre Bonnard, Théophile Alexandre Steinlen and Jules Chéret, the 'father of the modern poster'. These will include many of the artist's finest graphic artworks made for legendary nightclubs, such as the aforementioned Moulin Rouge, and the Ambassadeur.
The exhibition will also include the work of British artists who were drawn to the dynamic café culture of Paris, such as Walter Sickert, Arthur Melville, J D Fergusson and William Nicholson.
The Moulin Rouge's dancers Mathilde and Lucy (the latter from Glasgow) donned the cabaret's famous can-can outfits for the special event at the Royal Scottish Academy. They also wore dresses worn by French Moulin Rouge dancers Jane Avril and La Goulue, both of whom knew and were captured by Lautrec in artworks on display in the exhibition. These dresses are still worn in Moulin Rouge performances today.