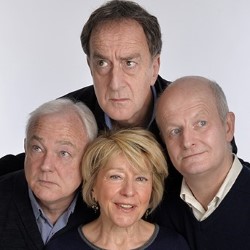 Those of us who recall listening to BBC Radio 4 during the 1980s may recall a fledgling radio comedy series that was to make stars of the likes of Angus Deayton and Helen Atkinson-Wood. Radio Active was an innovative satirical series – mockingly describing itself as 'Britain's first national local radio station' – with sketches and songs parodying local radio.
The show was born at the Edinburgh Fringe Festival in 1979 – and now, 37 years later, Radio Active has returned to Scotland's capital city. The original performers of that show in 1979 have returned – sadly without Geoffrey Perkins who died in 2008. But Deayton and Atkinson-Wood, along with the hugely talented Phil Pope and Michael Fenton Stevens are back with the same acerbic wit which defined their show three decades and more ago.
The "commercials" feature many parodies of current TV adverts and other running jokes – conversations between housewives Mary (Fenton Stevens putting on a high-pitched voice) and June (Atkinson-Wood).
Some of the old characters were resurrected – Mike Channel (Deayton), Martin Brown (Fenton Stevens) and Anna Daptor (Atkinson-Wood) and while some of the humour might have been lost on some of the younger members of the audience, for those who loved the radio show all those years ago this was a treat.
Deayton, along with the late, lamented Geoffrey Perkins, wrote most of the scripts for the radio show but, for me, the hugely underrated Phil Pope – who has composed a large amount of music other radio and television including the theme tunes for The Fast Show – was the pick of the performers. Those of you who remember the BBC comedy Only Fools and Horses with David Jason and Nicholas Lyndhurst – and if you watch Gold TV you'll be well aware of it as it's on that channel almost every day – will recall the famous episode where Pope played the nightclub singer Tony Angelino who had a great singing voice – but couldn't pronounce the letter 'r'. Pope was on great form playing numerous characters in Radio Active.
All in all, it's a great hour of reminiscing when all these performers were lesser-known names. Sometimes it's great to return to one's roots – and it's great to see Radio Active back to where it all began more than three decades ago.
Edinburgh Reporter rating: ****
Radio Active is at the Pleasance until 28 August. Tickets here