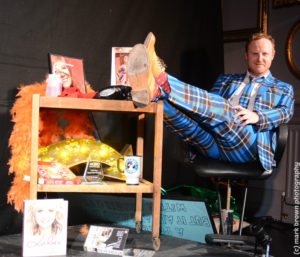 Review: Gary Lamont: What A Riddy!  The Boards, Venue 59.  19.30h, 1 hour.
Gary Lamont glides towards the stage from the back of the intimate Boards venue in full song.  His entrance is flanked by an enthusiastic audience as he informs them that "something tells me something is going to happen tonight."
He wasn't wrong, as sixty jam-packed minutes delivered a fine mixture of laughter and song, assisted on the piano by Andrew Scott.  From rousing renditions of hits by Cilla Black, Lulu and Fairground Attraction to the hilarious 'Ginger Girl' that brought a fast-paced hour to an end.
A 'riddy' to some means a 'red face'.  That's what Lamont's mother had when she arrived late for her son's show – much to the amusement of decidedly dapper looking ginger self-proclaimed 'patter merchant' in his trademark tartan suit.
Lamont takes no time in ensuring his east coast sell-out crowd that it is of course a term of endearment for one with red hair.  A ginger. Everybody loves a ginger.
His open salvo takes in several ginger related – and at times potentially risqué jokes – no need for parental guidance in the hall though, based on the demographics on show anyway.
There's a big cheer as Lamont mentions River City, where he has played Robbie Fraser the hairdresser since 2009.
Must be something about Fringes for the man making his cabaret debut!
And there was news that Gary had been short-listed for 'Best Newcomer' in the MOGOS.  Just like the MOBOS but, yup – you've guessed it – for Gingers!  A passionate plea for Twitter followers in the crowd to go and vote was quickly downgraded to "tell your children and grandchildren to vote instead then!"
Only a handful of tickets are left for Tuesday and Saturday matinee shows.  You'll need to be as fast as a Ninja to go see this loveable Ginger.
To get your hands on a ticket, go visit the Fringe site here.