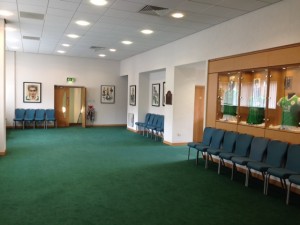 Easter Road stadium will be opened to the public on Sunday as the Hibernian Historical Trust host the fifth annual Leith Festival Open Day.
Supporters and other visitors will enjoy an access all areas self-guided tour from 12pm-4pm, covering the full stadium including the home dressing room, tunnel and dugout areas.
In addition display cabinets holding  jerseys, boots and other memorabilia from the past will be available to view in the Boardroom, Gallery and Players' Lounge.
The East Stand concourse holds enlarged famous programmes for home games against Real Madrid, Naples and Barcelona and the outside wall contains personalised stones with messages.
The South Stand houses the Hibernian Community Foundation offices whilst the Famous Five Stand has a plaque in memory of former player James Main.
Volunteers and club staff will be on hand throughout the stadium to answer questions and provide further information.
The event was a fantastic success last year with thousands visiting the stadium, and we're looking forward to another busy afternoon on Sunday. Hope to see you there!