A more spacious marquee and a high energy fashion show are just two of the appealing enhancements set to bring an even bigger and better experience to one of Musselburgh Racecourse's most prestigious racedays.
Racing and fashion enthusiasts attending this year's Stobo Castle Ladies Day will benefit from a number of renovations that have now been made at the Edinburgh venue thanks to client feedback from last year.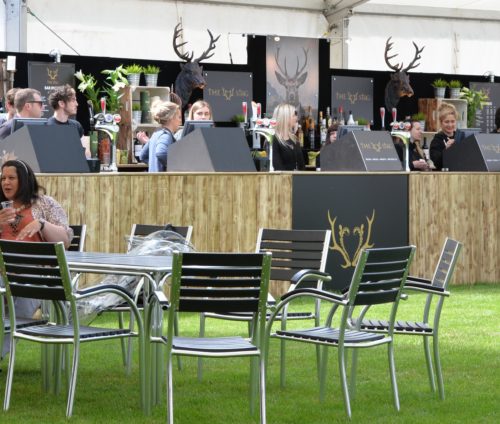 As well as improvements including a more expansive marquee, extended bar areas and the addition of 24 new toilets, the renowned fashion event will also see a unique range of food and beverages on sale, including 24 different types of gin, a pop up Fever Tree Bar, a variety of delicious street foods and champagne ice lollies.
Lucky racegoers on 11 June will also get the chance of saddling up with heart-throb Vernon Kay, as he has been announced as this year's VIP host of the much-anticipated after racing party.
Now widely recognised as Scotland's biggest fashion extravaganza, Stobo Castle Ladies Day also features Musselburgh's richest horse race of the season, the £100,000 William Hill Scottish Sprint Cup.
Bill Farnsworth, Chief Executive at Musselburgh Racecourse, said: "Stobo Castle Ladies Day is our biggest day in the racing calendar and, year upon year, we're always looking to make enhancements to ensure racegoers have the best possible experience with us.
"We've taken into account the feedback we received from attendees last year, and have pulled out all the stops to have the racecourse looking its absolute best to match the effort put in by thousands of fantastic looking racing fans who enjoy this day.
"In particular, thanks to the extended marquee and bar areas, we have now created even more space for socialising and the broadened food and drinks menus will give our guests even more choice on the day and guarantee everyone has a fantastic time."
As well as being just a few miles from Edinburgh, the East Lothian course is a one of Scotland's best known five star venues, with superb facilities. That, combined with the thrill of a high-quality race card, has turned the June event into one of the highlights of Scotland's social and racing calendars.
Musselburgh Racecourse is firmly established as one of the UK's most stylish racecourses, hosting 28 flat and jumps meetings each year. Already popular with racing enthusiasts, families and corporate clients, general admission tickets for Stobo Castle Ladies Day have now sold out in record time. However, a number of appealing packages are still available, including the Picnic Pavillion package which offers first class views, guaranteed rain cover and the opportunity to bring your own picnic.
To book Champers and Hampers Packages call 0131 665 2859 and Picnic Pavilion Packages, go to: https://www.musselburgh-racecourse.co.uk/buy-tickets-online.asp?s=2&id=411