SATURDAY 4TH JUNE 2016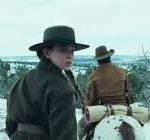 Grassmarket Community Cinema Matinée of the Month: True Grit (15) (2010 version). In Joel and Ethan Coen's adaptation of Charles Portis' original novel, fourteen-year-old Mattie Ross (Hailee Steinfeld) joins an aging US marshal (Jeff Bridges) and another lawman (Matt Damon) in tracking her father's killer into hostile Indian territory. Sticking more closely to the source material than the 1969 feature adaptation starring Western icon John Wayne, the Coen Brothers' True Grit tells the story from the young girl's perspective and re-teams the celebrated film making duo with their No Country for Old Men producing partner Scott Rudin. Josh Brolin and Barry Pepper co-star. 2pm, 
Grassmarket Community Project, 86 Candlemaker Row. All welcome, free admission: donations very welcome! The Grassmarket Community Project is a charity providing mentoring, training and education to participants, many of whom are amongst the most vulnerable of Edinburgh's citizens, in a nurturing environment. It operates a community cafe, woodwork and tartan social enterprises, and a range of social integration and educational activities for members, aimed at enhancing life skills and developing confidence. To read about The Edinburgh Reporter's afternoon at the Project, click here.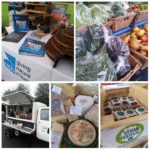 Portobello Market: local and organic fruit, veg, meat, fish, bak­ing, and more. Although food is the core of the mar­ket, it also includes a selec­tion of local crafts and other organic products. For a list of this week's traders, click here. 9.30am-1.30pm, Brighton Park, Brighton Place, Portobello.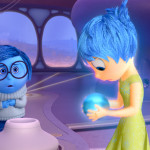 St Bride's Family Cinema: see your favourite films for free! Adventure, excitement, fun and laughs – everyone welcome. Juice and choc ices are available to purchase in the interval at 50p each. This week's film is Inside Out (U). Please note that all children under the age of 16 must be accompanied by an adult. 10.30am-12.30pm (includes interval), St Bride's Centre, Orwell Terrace, Dalry.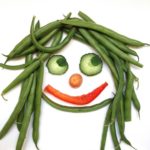 The Vegan Quarter at Leith Market: on the first Saturday of every month, the market has a vegan theme; at least a quarter of the stalls are guaranteed to be 100% vegan, with other stalls offering vegan friendly options. This month the Cowgate Pop-up Market 'Leith Edition' will also be there –it's normally in the Cowgate but has had to move, so it'll be right next door in Custom House with lots of arts and crafts stalls as well as a boozy ice cream van. 10am-5pm, Leith Market, Dock Place, Leith.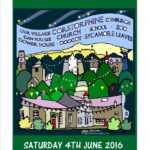 Corstorphine Fair: over one hundred local and national community and charity groups take part in this bi-annual fair, recognised by The City of Edinburgh Council as the biggest community run event in the capital. 11am-4pm. Venues: St Margaret's Park, Corstorphine Primary School and Corstorphine High Street.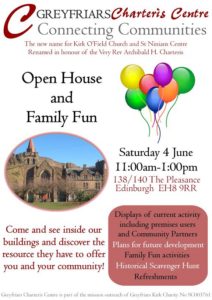 Greyfriars Charteris Centre – Connecting Communities. A family fun day with scavenger hunt, refreshment and fun activities, to launch the new Charteris Centre, formed from Kirk O'Field Church and St Ninian's Centre in the Pleasance. Come and see inside the new buildings and find out what they have to offer. 11am-1pm, Charteris Centre, 138-140 The Pleasance.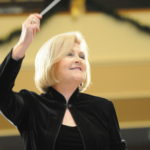 Lunchtime Concert: Southern Crescent Chorale, Fayetteville, Georgia; Director Janice Folsom. 12.15pm, St Giles' Cathedral, High Street. Free.
Clay Sculptures: inspired by the bronze Head Looking Up by Eduardo Paolozzi create your own 3D sculpture.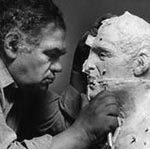 Have fun with this very tactile form of art, unleashing weird and wonderful shapes in this workshop for families. 2pm – 4pm (drop in session – no booking required – you can either come for the full two hours or just for a while), City Art Centre, Market Street. Free – suggested donation £2.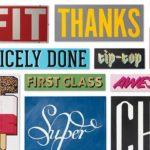 Thomas Paints: Signs of Appreciation. An exhibition of sign painting, typography and sculpture by Thomas Paints. With a background in product design, Thomas is fascinated by the typography, process and technique that go into the physical messaging around us. 'Expect signs. Expect appreciation. Expect signs of appreciation.' Opens 6-9pm today, then 10am-6pm Sunday 5th, Monday 6th and Wednesday 8th June, 10am-8pm Tuesday 7th and Thursday 8th June, Gayfield Creative Spaces, 11 Gayfield Square.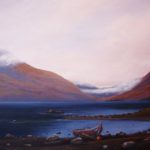 Kristopher Thomas: Just Like Home. A solo exhibition of landscape oil paintings by New Zealander artist Kristopher Thomas.  A selection of realist works will be on show, representing a diverse range of Scottish landscape subjects. Kristopher was inspired to conduct an exhibition after a road trip through the Highlands and out to Skye; he could not help but notice the many similarities to where he is from, the South Island of New Zealand. With this in mind, a diverse body of work was produced, with the intent to explore similarities to his homeland. Preview tonight 6-9.30pm, then 10am-6pm daily, Gayfield Creative Spaces, 11 Gayfield Square. Ends 12th June 2016. Image © Kristopher Thomas.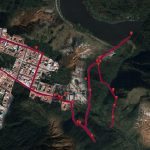 Tono Carbajo. Leith Project: Tielh And The Houses Of Wishes. Tono Carbajo' s project consists in conducting a series of hikes, individually and collectively, in order to build a map superimposed on the real landscape. He wants to appropriate the physical territory to build a utopia. During the walks he will be collecting and classifying found materials, and take photographic and sound recordings of the terrain and the environments, which will be represented in the gallery space, drawing an immaterial structure reflecting the collected utopia. 12 noon-4pm today then 10am-4pm Monday to Friday, 12 noon-4pm Saturdays (closed Sundays), Interview Room 11, Ocean Terminal Level One, Ocean Drive, Leith. Ends 9th July 2016.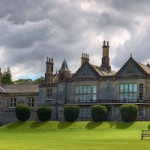 Young Leaves: Writing Out of Doors. Come and write haiku in the beautiful setting of a Japanese garden overlooking the Firth of Forth. Just 3 lines long, haiku are simple to write, but capable of great variety – humour, emotion, even storytelling. Use poems by the great Japanese poet Yosa Buson (born 300 years ago this year) – and the inspirational surroundings at Lauriston –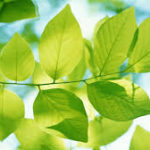 as starting points for your own writing. For all ages: under 12s must be accompanied by an adult. Please dress for the weather. Lead by poet Ken Cockburn, who blogged about the Lauriston Japanese garden over the course of a year: read Ken's blog here. 1.30-3.30pm, Lauriston Castle, 2a Cramond South Road. £5 per person: booking is essential and must be made in advance via the Usher Hall Box Office, Lothian Road in person, by calling 0131 or online here.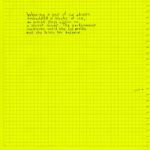 Raphael Rubinstein: The Miraculous. To coincide with the exhibition The Miraculous, Edinburgh Sculpture Workshop presents a talk by New York-based poet and art critic Raphael Rubinstein, discussing the exhibition and the book of the same name on which it is based. Speaking on his practice as an art critic, his relationship with the politics of representing artists and ideas on the way artworks function in language, both in writing and in conversation, the talk will be a chance to discuss The Miraculous within Raphael's wider practice as a poet, an art critic, a teacher and an occasional curator. The Miraculous is the second in the series of exhibitions On an otherwise ordinary evening curated by Peter Amoore. 2-4pm, Edinburgh Sculpture Workshop, Hawthornvale. The Miraculous will be at ESW from today until 31st August 2016, open 11am-5pm Monday to Saturday.
Film: Tongues on Fire Presents The 1st Edinburgh Asian Film Festival. This pioneering event features the best films from the London Asian Film Festival (LAFF), Europe's longest-running Asian cinema showcase, produced by non-profit organisation Tongues on Fire. EAFF 2016 offers viewers a bounty of border-breaking and boundary-pushing cinema, featuring Yemen's first female filmmaker and spotlighting the burgeoning Pakistani and Indian indie film sectors. EAFF's exhilarating cocktail of compelling, uplifting and thought-provoking stories guarantees cross-cultural appeal – take this opportunity to experience a diverse kaleidoscope of Asian films, previously inaccessible to Edinburgh audiences. The festival's Creative Director is Dr Ashvin Immanuel Devasundaram, author of India's New Independent Cinema: Rise of the Hybrid. Today's films are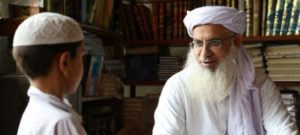 (i) At 3pm: Among the Believers (15) (in English and Urdu with English subtitles), a powerfully path-breaking documentary investigating Pakistan's radical Red Mosque faith school network, where young children are trained to devote their lives to jihad, or holy war. The film features up-close-and-personal conversations with the school's controversial custodian, the ISIS and Taliban-supporting cleric Maulana Abdul Aziz. With astounding access and chilling footage, the film's Indian and Pakistani directors offer a timely and relevant insight into the causes that have led to the growth of radical Islam in Pakistan and around the world. The screening will be followed by a Q&A with Mazhar Khan (Muslim Council of Scotland) and Sajid Quayum (Caledonia TV); (ii) At 5.45pm: Moor/Mother (15) (in Urdu, Pashto and English with English subtitles).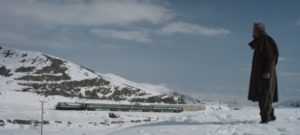 Set in the remote Pakistani province of Balochistan, the film's stunning backdrops are reminiscent of the wide cinematic vistas in Lawrence of Arabia. 'Wherever we placed the camera, the framing would be beautiful' says Jami (Jamshed Mahmood), who both wrote and directed the film. Moor tackles the themes of honour, family ties and greed – taking as a starting point the rapidly declining railway system and the postcolonial corruption at its root. Tracing a family's journey from tribal frontiers to cosmopolitan Karachi, Moor is a must-see masterpiece of modern independent Pakistani cinema. The screening will be followed by a Skype Q&A with writer/director Jamshed Mahmood. Filmhouse, Lothian Road. Tickets may be purchased from the Box Office in person, by calling 0131 228 2688 or online. The final films in this series will screen on Sunday 5th June.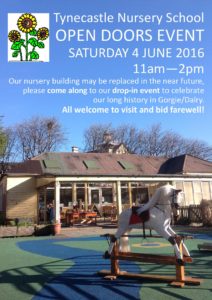 Tynecastle Nursery School Open Doors Event: the nursery building may soon be replaced, so come along and celebrate the nursery's long history in Gorgie/Dalry. 11am-2pm, Tynecastle Nursery School, McLeod Street. All welcome!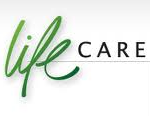 LifeCare 75th Anniversary Quiz Night: with Quizmaster Robert the Bruce and fun rounds including Famous Faces, Dingbats, Play Your Cards Right, General Knowledge and Music. Raffles with fantastic prizes! Bar with snacks. For over 18s only. 8pm, LifeCare, Stockbridge House, Cheyne Street. Tickets £5 + booking fee from Eventbrite here. LifeCare (Edinburgh) is a local charity providing services to support the well-being and independence of older people.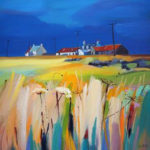 Pam Carter DA: the award-winning artist was born in Tanganyika, East Africa and came to Scotland at the age of thirteen.
She graduated from Glasgow School of Art in the seventies; after teaching in various schools and colleges, she now concentrates full time on painting and has exhibited throughout the UK and in New York. 'My main inspiration is in the Scottish land and seascape. I enjoy using colour to define contours, structure and changing light sequences. I search out specific view points and am equally inspired by the rugged isolation of the Western Isles and the dramatic view points of the Eastern coastline. I work predominantly in oil'. Opening with refreshments 11am-1pm today, then 10.30am-4pm Saturdays, 11am-6pm Monday to Friday, The Torrance Gallery, 36 Dundas Street. Ends 25th June 2016. Images: Colour in the Sound and Summer Steading, Tiree © Pam Carter.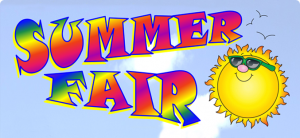 Broughton Primary School Summer Fair: facepainting, crafts. Stalls, refreshments, raffle and lots more! 12 noon-2.30pm, Broughton Primary School, 132 Broughton Road.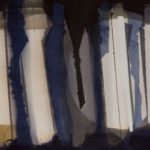 Foldyard: Paintings, Prints and Weaves. FOLDYARD are Dave Watson and Morag Eaton, who live and work together in Berwick upon Tweed.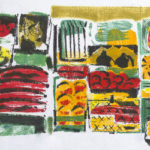 They have been creative workers and artists for the last 30 years. Dave trained as a photographer in the early eighties; he much prefers the freedom of painting 'Memory and understanding move my brush more than the reality of the scene'. Morag is a printmaker whose work is around topical themes and/or illustrative. 'I am also interested in how we see repetition of past behaviours in present circumstances'. Preview today 4-6pm, then 11am-5pm Tuesday to Saturday, The Sutton Gallery, 18a Dundas Street. Ends 18th June 2016. Image: All at Sea © Dave Watson.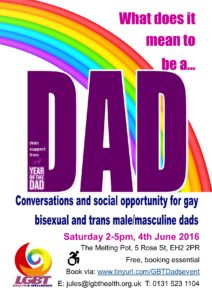 LGBT: What Does It Mean To Be A Dad? Conversations for Gay, Bisexual and Trans Male/Masculine Dads. 2016 is 'Year of the Dad' and with Father's Day around the corner LGBT Health & Wellbeing is celebrating both with a unique event for gay, bisexual or trans male/masculine dads. Meet other dads, hear from guest speakers and join in the conversations to discuss anything and everything about being a Dad today. Supported by Fathers' Network Scotland, this free event is open to all GBT Dads, including step-parents, foster parents and donors with a parenting role.  Snacks and refreshments will be provided. 2-5pm, The Melting Pot, 5 Rose Street. Booking is essential: please complete the booking form here to register. For more information please contact Jules Stapleton-Barnes on 0131 523 1104 or email jules@lgbthealth.org.uk.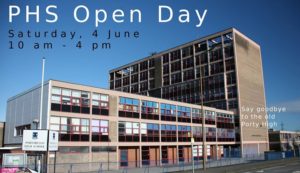 Say Goodbye to the Old Porty High – Portobello High School Open Day. In preparation for moving to the new school, the old school building will be open to the general public for guided tours today. Some classrooms will be fitted out with memorabilia from each decade of the life of the building, and visiting former pupils will be encouraged to share their memories and /or sign their names on displays. A café and exhibition will be in place, the latter honouring some of PHS's former pupils who have excelled in their chosen fields. 10am-4pm, Portobello High School, 10 Duddingston Road. For more information please contact Nicola.todd@portbello.edin.sch.uk.
An Aifreann Gàidhlig (The Gaelic Mass): the first Edinburgh performance of Blair Douglas' award-winning Gaelic Mass, arranged for choir and instrumental ensemble by Andy Thorburn, in the beautiful sanctuary of St Andrew's and St George's West Church. With songs and musical contributions from An Còisir Beag, Mòd Gold Medalists Sineag Mackintyre and Calum Macleod, and the children of Edinburgh's Parkside Primary School. 7.30pm, St Andrew's and St George's West Church, 13 George Street. Free – donations welcome to cover costs.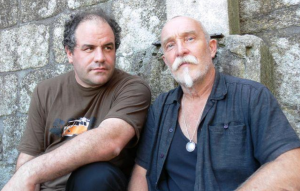 Raymond MacDonald and Günter 'Baby' Sommer: a jazz improvisation concert featuring drummer Günter 'Baby' Sommer and saxophonist (and head of Reid School of Music) Raymond MacDonald, with the Glasgow Improvisers Orchestra. Günter Baby Sommer is a towering figure in improvised music – he one of the first generation of original free jazz drummers and a master musician of contemporary European jazz. Raymond MacDonald is a saxophonist and composer who has released over 50 CDs, toured and broadcast worldwide and collaborated with musicians such as David Byrne, Jim O'Rourke and Marilyn Crispell. He has written music for film, television, theatre, radio and art installations and much of his work explores the boundaries and ambiguities between what is conventionally seen as improvisation and composition. 7.30pm, Reid Concert Hall, University of Edinburgh, Bristo Square. Admission free.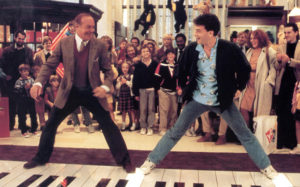 Picturehouses After Dark: Big (12A), starring Tom Hanks. When a boy wishes to be big at a magic wish machine, he wakes up the next morning and finds himself in an adult body. 10pm, Cameo, Home Street. Tickets may be purchased from the Box Office in person, by calling 0871 902 5723 or online.

Edinburgh Trans Women: a support group aimed at transsexual women at any stage of transition, women who are transgender and live as women full-time or part-time or for those who are questioning their gender identity. You are asked to email before the first time you want to visit, as this helps with security and enables the group to get ready to welcome you. 7.30-9.30pm, LGBT Health & Wellbeing, 9 Howe Street. For more information please email info@edinburghtranswomen.org.uk.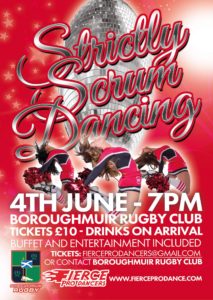 Strictly Scrum Dancing: see some rugby boys dance and have a laugh, see the Fierce Pro Cheerleaders do it properly and enjoy the skills – come and have a great evening with friends and meet some new people. The evening will included a Strictly Come Dancing competition, raffle and games, buffet, drink on arrival, lots of entertainment and fun, and a disco to finish the night off! 7pm, Boroughmuir Rugby Club, Meggetland, Meggetland Wynd, EH14 1XN. Tickets £10 from Canalside or fierceprodancers@gmail.com or hello@boroughmuirsports.co.uk. Non-members welcome.
Jamie King and Nicky Beckett: Displacement. A challenging, thought-provoking exhibition of expressive paintings and conceptual art works, created in response to the current refugee crisis.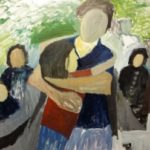 The exhibition has been selected as part of the Open Programme of this year's Refugee Festival Scotland; its conceptual element to this exhibition invites, through the use of language, a personal response to distress and despair. Both artists have explored the ways in which some words, through familiarity, have lost much of their power and meaning. Open preview tonight 7-9.30pm, then 11am-6pm daily, Gallery One, St Margaret's House, 151 London Road. Ends 19th June 2016.
Linlithgow Jazz Club: Swing 2016. For the last three decades, audiences have warmed to Swing 2016's easy-going and informative presentation and the verve, musicality and good humour of their music. John Russell, (acoustic/rhythm guitar/vocals), Roy Percy (double bass) and Stephen Coutts (electric and acoustic guitars) love to play the music of the great jazz composers, Django Reinhardt, Count Basie, Fats Waller, Benny Goodman, Duke Ellington and others, arranged and introduced by the band. 7.30pm (doors open 7pm), St Michael's RC Church Hall (Queen Margaret's Hall), Blackness Road, Linlithgow. Tickets £12. The club provides tea and coffee (donations welcomed) and you are free to bring your own drinks (alcoholic or non-alcoholic), glasses and snacks. Bring your dancing feet and come prepared to quickstep, foxtrot, jive or swing or just do your own thing – or if you prefer, just relax and enjoy some great music.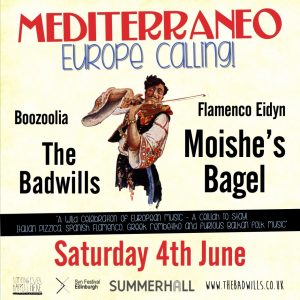 Nothing Ever Happens Here and Mediterraneo Present Europe Calling! – the summer edition of Edinburgh's own wild world music concert series. In the shadow of the EU referendum, come join them for a mighty dance-fuelled celebration of live music from across the continent… a ceilidh to stay! Adrenaline-charged Eastern European folk music maestros Moishe's Bagel headline, with hosts and Edinburgh's favourite tambourine toting Italian pizzica bandits The Badwills, Greek rembetiko and folk merchants Boozoolia and Spanish roots aficionados Flamenco Eidyn rounding off the night. Come along to celebrate Scotland being, and staying in Europe! For over 18s only. 8pm-1am, The Dissection Room, Summerhall, 1 Summerhall. Tickets £9 in advance from the Box Office on 0131 560 1580 or online here, £10 on the door subject to availability – early booking is strongly advised as previous nights have sold out.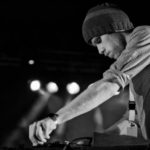 Alt-w-Resono: Resono is an experimental sound art and music project taking place in some of Scotland's most interesting acoustic spaces. The concept, developed by Sam Annand, Craig Gallacher, Paul Gault & Scott Gordon, is to compose, perform and record compositions specifically for a series of particularly reverberant locations, using impulse response digital audio technology, then play the recordings back to live audiences in those locations. Tonight Resono will be performed in the nave of the Sir George Gilbert Scott designed St. Mary's Episcopal Cathedral. 8pm, St Mary's Cathedral, Palmerston Place. Free but please reserve your place via Eventbrite here.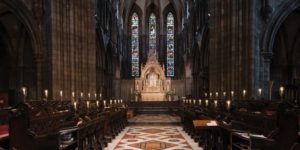 SUNDAY 5TH JUNE 2016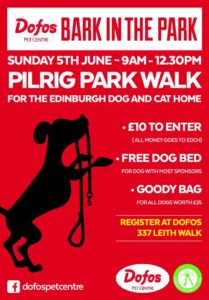 Bark in the Park! A sponsored walk around Pilrg park, organised by Dofos Pet Centre, to raise money for the Edinburgh Dog & Cat Home. The most sponsored dog will receive a free dog bed! £10 to enter your dog for the walk, with all monies going to the EDCH. Each registered dog will receive a complimentary goodie bag worth £25. 9am-12.30pm, Pilrig Park. All dogs must be registered before the event; registration may be made at Dofos, 337 Leith Walk (tel: 0131 557 4666).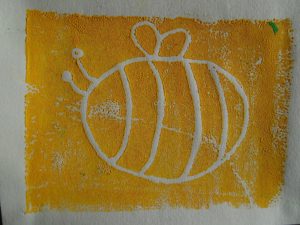 Art Explorers: Magic Mobiles. Be inspired to make your own work of art as you explore the beauty of the Garden with Greengage Arts, using a wide range of colourful and tactile materials.  Get recycling and make all sorts of colourful creatures and plants for a garden mobile. 1-4pm, Real Life Science Studio, John Hope Gateway, Royal Botanic Garden, Inverleith Row. For ages 3+. £3 on the door – no booking required.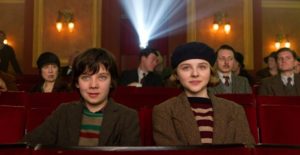 Filmhouse Junior: films for a younger audience. This week: Hugo (U):  Martin Scorsese's delightful family film tells the tale of an orphan boy living a secret life in the walls of a Paris train station. When Hugo encounters a broken machine, an eccentric girl, and a cold, reserved man who runs a toy shop, he is caught up in a magical, mysterious adventure that could put all of his secrets in jeopardy. 11am, Filmhouse, Lothian Road. Tickets cost £4 per person, big or small.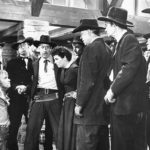 Picturehouses Vintage Sundays: classic films back on the big screen. Today: Johnny Guitar (PG). When she helps a wounded gang member, a strong willed female saloon owner (Joan Crawford) is wrongly suspected of murder and bank robbery by a lynch mob. 1pm, Cameo, Home Street. Tickets may be purchased from the Box Office in person, by calling 0871 902 5723 or online.


LGBT Age Edinburgh: Men's Walk: Granton Waterfront, Birds & Beaches.  An event open to any LGBT Age community members that identify as male. Join the group for a walk through a former gas works site, Forthquarter Park, now a wetland haven, home to many birds and wildlife, taking in stunning views of the Forth Estuary. 12 noon-2pm, meet at the Prentice Centre, 1 Granton Mains Avenue, EH4 4G4.
Booking is essential and may be made by calling 0141 271 2330 or emailing beverley@lgbthealth.org.uk. LGBT Age is a project run by LGBT Health and Wellbeing for lesbian, gay, bisexual and transgender (LGBT) people aged 50 and over in Greater Glasgow, Edinburgh and the Lothians. The project aims to promote health and wellbeing and create social opportunities. It offers a befriending service, social programme and information sessions. If you would like more information email lgbtage@lgbthealth.org.uk.
Art Maker – June: join the Art Maker Club and make your own masterpieces with artists Tessa Asquith-Lamb and Louise Fraser. For ages 4-12. 2-4pm, Scottish National Gallery, The Mound. Drop-in – free and unticketed. Supported by the Friends of the National Galleries of Scotland. Image: Andy McGregor.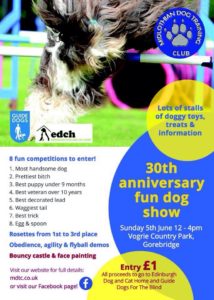 Midlothian Dog Training Club 30th Anniversary Charity Fun Day: Fun dog classes, demonstrations in obedience, agility and fly ball, bouncy castle, face painting and lots more! All proceeds to Edinburgh Cat and Dog Home and Guide Dogs for the Blind. 12 noon-4pm, Vogrie Country Park, Gorebridge EH23 4NU. Entry by donation for the nominated charities.
Scotland's Gardens: Dean Gardens. Nine acres of semi-woodland garden with spring bulbs on the steep banks of the Water of Leith in central Edinburgh. Founded in the 1860s by local residents, the Dean Gardens contain part of the great structure of the Dean Bridge, a Thomas Telford masterpiece of 1835. Lawns, paths, trees, and shrubs with lovely views to the weir in the Dean Village and to the St Bernard's Well. There is also a children's play area. Live music, refreshments available. 2-5pm, Dean Gardens (enter on Ann Street or Eton Terrace). Entry £3, children free. All proceeds will go to Scotland's Gardens beneficiaries.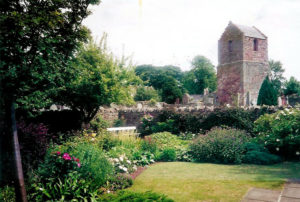 Scotland's Gardens: Stenton Village. Stenton (Stane Toon), with its ancient cottages of purple hued sandstone and pantiled roofs, has been awarded 'outstanding conservation' status. There is a thriving Horticultural Society and the gardens, large and small, are of extraordinary variety and interest. Plant sales, teas. 2-5.30pm, Stenton Village, East Lothian (Follow signs from A199/A1). Entry £5 (children free) of which 40% will go to Leuchie House and the net remainder to Scotland's Gardens beneficiaries.
St Giles' at Six: Organ Recital by Jacob Reed. JS Bach Trio Sonata II, BWV 526, De Grigny Récit de Tierce en Taille. Frescobaldi Toccata Sesta, JS Bach Fantasy and Fugue in C minor BWV 537, JS Bach Schmücke dich, o liebe Seele BWV 654 and JS Bach Passacaglia BWV 582. 6pm, St Giles' Cathedral, High Street. Free: retiring collection.
Tongues on Fire Presents The 1st Edinburgh Asian Film Festival. Today's films are (i) At 5.45pm: Manto (15) (in Urdu with English subtitles). Director Sarmad Sultan Khoosat takes the title role in this biopic tracing the last four and half years of Manto's life. Born in India, the controversial short-story writer moved to Pakistan following the Partition, and the film opens in a Lahore asylum where he is being treated for alcohol addiction. Manto's pen continues to flourish, however, allowing him to leave a literary legacy that remains iconoclastic and radically relevant to this day. Introduced by Dr Ashvin Devasundaram, Creative Director of EAFF 2016; (ii) At 8.25pm: Aligarh (15) (in Hindi with English subtitles). Caught in a sting operation, Dr Siras, an ageing professor, is suspended from Aligarh Muslim University for having sex with another man.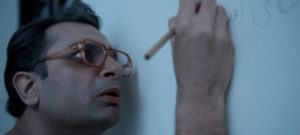 A young rookie journalist, Deepu, decides to investigate the murky story and an unlikely friendship develops between the two. With Deepu's support,
Dr Siras fights a court case against invasion of privacy and the violation of his fundamental rights. Based on true incidents, Aligarh gently explores the inner world of a man who seeks freedom from an intolerant society. The screening will be followed by a Q&A with Dr. Matthew Waites (University of Glasgow) and Kumud Rana (University of Glasgow). Filmhouse, Lothian Road. Tickets may be purchased from the Box Office in person, by calling 0131 228 2688 or online.
Singers' Night with William Young & His Trio: An evening of superb vocals from the ex-Cincinnati Soul/Blues/Jazz vocalist, backed by a top-drawer jazz trio featuring swinging pianist Peter Johnstone. 9pm (entry from 8pm), The Jazz Bar, Chambers Street. £5/£4 on the door: please note this venue is strictly cash only.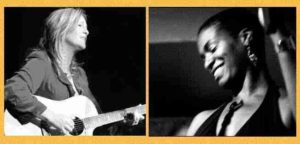 Lorna Brooks and Jennifer John + Paul Gilbody: established singer-songwriters in their own right, Edinburgh based Lorna Brooks and Liverpool based Jennifer John come together for this unique intimate event. Both possessing the most beautiful voices as solo artists and session musicians, they are delighted to realise a long held desire to collaborate.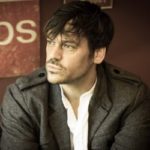 Belfast native Paul Gilbody has been prominent in the Scottish music scene since moving to Edinburgh in the 90s. A vocalist in various bands, he founded funk outfit The Ugly Groove, was part of groove trio Gecko 3 on double bass and a founder member for Scotland's Gospel Truth Choir; he is now focusing on solo work. 'This one-off event promises to be a most enjoyable evening with great musicianship, fantastic songs and good humour'. Over 18s only. 7.30pm, The Voodoo Rooms, West Register Street. Tickets £10 + booking fee from Eventbrite here.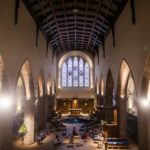 Nitekirk: one evening each month, Nitekirk provides a creative, drop-in experience of church. This ministry, rooted in Greyfriars Kirk and supported by its local ecumenical partners, seeks to create a welcoming sacred space for all. The church will be lit with candles, the atmosphere contemplative. There will be a time of reflection, gentle music and, throughout the sanctuary, places of activity – pictures to consider, Scripture, prayers and poems to read, something to feel with your hands, art supplies to focus your creativity. People come and go as they like, joining in songs and quiet conversations or sitting in silence and enjoying the space.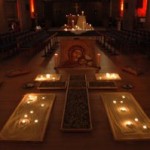 Tonight: the Wild Goose Resource Group presents SOS. The group is a semi-autonomous project of the Iona Community. 5-8pm, Greyfriars Kirk, Greyfriars Place. All welcome. 'A place of welcome, a space for stillness, a pause on your journey, an open door'.