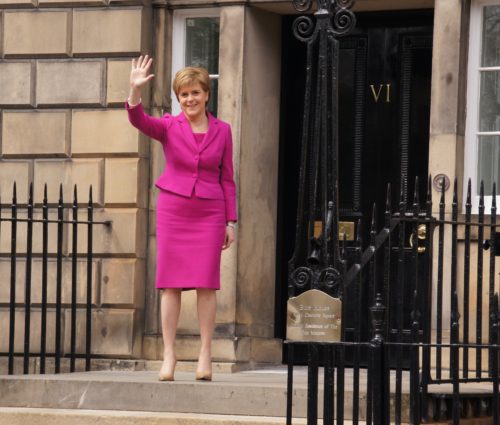 First Minister Nicola Sturgeon called the press to the First Minister's official residence, Bute House, this afternoon to make a statement and also for a short photo call.
#SP16 First Minister speaking outside Bute House from Phyllis Stephen on Vimeo.
Here is what she said:
Yesterday, the SNP made history.

We became the first party to win a third consecutive Scottish Parliament election and secure a third term in office.

We won the highest share of the constituency vote and the largest number of constituency seats ever achieved in a Scottish Parliament election.

And we are the first party in the era of devolution to poll more than one million votes in constituencies across the country.

The result of the election was emphatic – the people of Scotland once again placed their trust in the SNP to govern our country.

We won a clear and unequivocal mandate.

And I secured the personal mandate I sought to implement the bold and ambitious programme for government that I asked the country to vote on.

So I can confirm that when it reconvenes in the coming days, I will ask the Scottish Parliament to formally re-elect me as First Minister.

It will then be my intention to form and to lead an SNP government.

With such a large number of MSPs elected I do not intend to seek any formal arrangement with any other party.

The government that I lead will be inclusive.

It will deliver on the commitments we made to the Scottish people – but it will also reach out and seek to work with others across the parliament to find common ground and build consensus.

Election campaigns inevitably focus on differences and dividing lines – but I believe that if we choose to find it, there is common ground aplenty to build on.

I made clear in this election that education will be the defining and driving priority of my tenure as First Minister – and that I expect to be judged on it. I reiterate that today.

Education is my passion and priority, but I was heartened that all parties chose to put a clear focus on it.

So I hope we can put party differences aside and work together.

Ensuring opportunities for all of our young people, regardless of their background or family circumstances is a cause that must unite, not divide us over the next five years.

There is also considerable agreement on stepping up our ambition to tackle climate change and protect our environment and on putting support for innovation at the heart of our efforts to transform the productivity of the Scottish economy.

And of course the SNP's determination to use new powers to mitigate austerity, invest in our public services and build a social security system based on the principles of dignity and respect is, with perhaps one exception, shared by other parties in our parliament.

So the government I lead will reach out. We will govern with conviction and determination but also with humility and a willingness to listen and to learn from the ideas of others.

And on the question of independence, the SNP will make our case with passion, with patience and with respect. But our aim is to persuade, not to divide. We will always respect the opinion of the people – now and in the future – and we simply ask that other parties do likewise.

It is the greatest privilege imaginable to be elected as the First Minister of our country.

To those who voted for me yesterday, thank you from the bottom of my heart. You have given me a precious opportunity to change this country for the better and I promise to seize it with both hands.

To those who did not vote for me, I promise I will never stop striving to earn your trust and support.

Like all politicians, I am passionate about the ideals I believe in.

But as First Minister, I have a duty to rise above party politics and to govern in the best interests of all of our country.

My pledge today is that I will always seek to do that.

Whatever your politics or your point of view, my job is to serve you.

I will always fight Scotland's corner and I will work every single day to make our country fairer, wealthier and stronger.

I look forward now to getting on with the job.

Thank you.