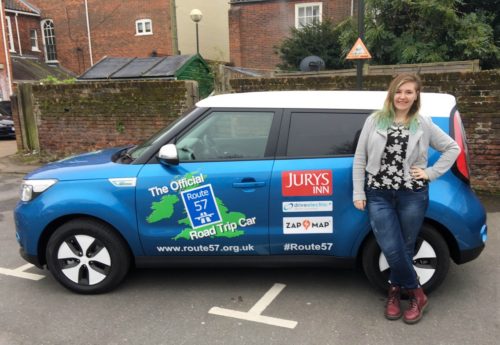 The official 'Route 57' electric car was in Edinburgh last weekend as part of its journey through 57 must-see destinations across England, Wales, Scotland and Ireland. The road trip runs from 6th – 26th April, starting in Plymouth and ending in Galway, visiting villages, towns, and cities along the way.
 As well as promoting local tourism, the campaign's use of an electric vehicle seeks to challenge common myths around electric cars.
A recent survey  shows that the 'range' of an EV is one of the top reasons why people are not buying electric cars. 
The Route 57 campaign shows that these perceptions do not match reality with today's green car technology, and that an electric car can drive more than 2,580 miles across four countries.
Driver and motoring journalist Jess Shanahan is doing the road trip in a Kia Soul EV supplied by electric car leasing company DriveElectric, and stopping at charging stations along the route, mapped out by ZapMap.

Jess' commented from Edinburgh: "Edinburgh was cool! We had to leave early as the roads were closing for the Great Edinburgh Run though. So much going on in one city."